What you do see on Instagram are the artfully arranged peony bouquets, just-green-enough matcha lattes, and casual-cool street style shots that are the staples of many Instagram influencers. What you don't see is all the work and gear that goes in to making that scene look as effortlessly perfect as it does.
While their backgrounds vary — some influencers are self-taught, others are trained photographers — ask any one of them, and you'll likely find they have a few gadgets that are key to getting the right shot. From the camera you use to the lighting you set up, there are small (and, luckily, often inexpensive) ways to make your own images stand out.
Ahead, we asked six top influencers to share which products they can't post without.
Aimee Song, @songofstyle
Song, one of the first fashion influencers to develop a massive following on Instagram, shoots everything on her iPhone 7 Plus. The dual lens makes crisp, detailed shots possible — but a shaky shooting hand can sometimes interfere with video quality. She found an inexpensive solution that helps.
"I take a lot of videos, and people kept complaining that they were very shaky. My friend got me this stabilizer that I can wrap around my wrist. I used it in Iceland, and after I posted a vlog from the trip, a lot of people asked what camera I used. I was just using my iPhone, but I think because [the Shoulderpod] steadies the motion, it makes it look like it was shot with a [more expensive] camera."
Shoulderpod S2 Handle Grip, $39.99, available at Adorama.
Lizzie Darden, @lizzie_darden
Photographer Lizzie Darden has found Instagram fame for punny shots that usually show one or both of her hands in the frame, often clutching food or disco balls.
"I use my DSLR for all my Instagram photos, but my remote shutter release that I plug into it has been a game changer. It lets me have my own hand in the shot (which is slowly turning into a signature of sorts!) without bending over backward, literally."
Neewer Digital DSLR Camera 16CH Wireless Shutter Release Remote Control, $16.99, available at Amazon.
Claire Sulmers, @clairesulmers
The founder and editor of Fashion Bomb Daily focuses her own feed on street style images.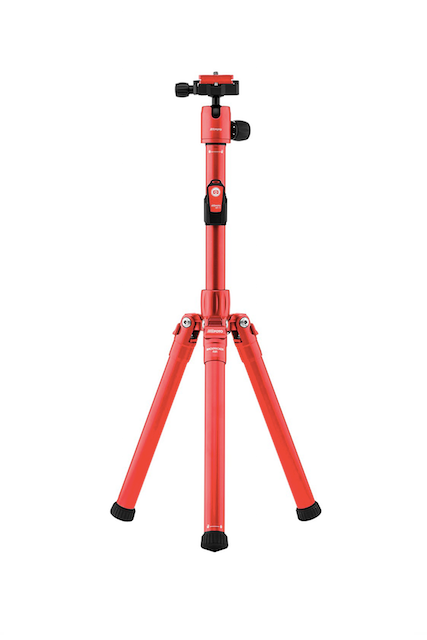 "[This tripod] is essential for Facebook and Instagram live videos. Just mount your iPhone, and you're good to go!"
MeFOTO BackPacker Air Tripod and Selfie Stick in One Kit, $125, available at Amazon.
Jessica Franklin, @heygorjess
For blogger and YouTuber Jessica Franklin, getting the lighting just right is the secret to higher engagement.
"I love this light, because it is super affordable, yet powerful! It's a white light, so it's perfect for taking photos when there isn't enough natural light — or even to enhance it even if the lighting is already good. I use it 90% of the time when taking photos or videos at home, and I couldn't imagine not having it."
Flashpoint Photo/Video 19" AC Powered 600W 5500K Fluorescent Ring Light With Bag, $89.99, available at Adorama.
"This case is so helpful for taking pictures indoors or at night when I'm on the go. I used to have a hard time capturing content at night events, but now I can still take bright, quality photos and videos. Not only does it have a front-facing light, but it has a back-facing one, too, which comes in handy."
LuMee Duo LED Lighting Case for iPhone 7, $69.95, available at Apple.
Candice Kumai, @candicekumai
Kumai, a professionally trained chef and best-selling cookbook author, highly recommends saving up for a few photography investment pieces. Even though the price is tough to stomach, she finds that it's worth it if you're shooting all your own content.
"I shoot most of my work with a Canon 6D and two different lenses, a 50mm for all food and detailed travel and lifestyle shots, and a 24-105mm for landscape and my 'OMFG I have to get this right now,' shots. I'm also playing with a new Sony a7s, for travel. It's smaller, lighter, and discreet. Get an adapter, and you can use all of your Canon lenses on the Sony a7s."
Canon EOS 6D DSLR Camera, $1,269, available at B&H.
Anna Bond, @annariflebond
Bond, the co-founder and creative director at cult stationary brand Rifle Paper Co., matches her company's aesthetic on her own feed, with photos that are crisp and clean, with a touch of whimsy. For her, winning on Instagram is all about taking a clear shot.
"I just use my iPhone 7 Plus. But I always wipe off my lens before I take a photo. People often overlook this step, but it makes a big difference with color and sharpness."
Bond uses her shirt to clean the lens, but you can also keep towelettes like these on hand for a quick wipe-down.
Well-kept Britt, $6, available at Staywellkept.com.
Like what you see? How about some more R29 goodness, right here?
How To Stream The Drama-Packed Finales Of Scandal & Grey's Anatomy
If You Have Curly Hair, There May Finally Be An Emoji For You
Gmail Is Finally Bringing One Of Its Best Time-Saving Features To Your iPhone