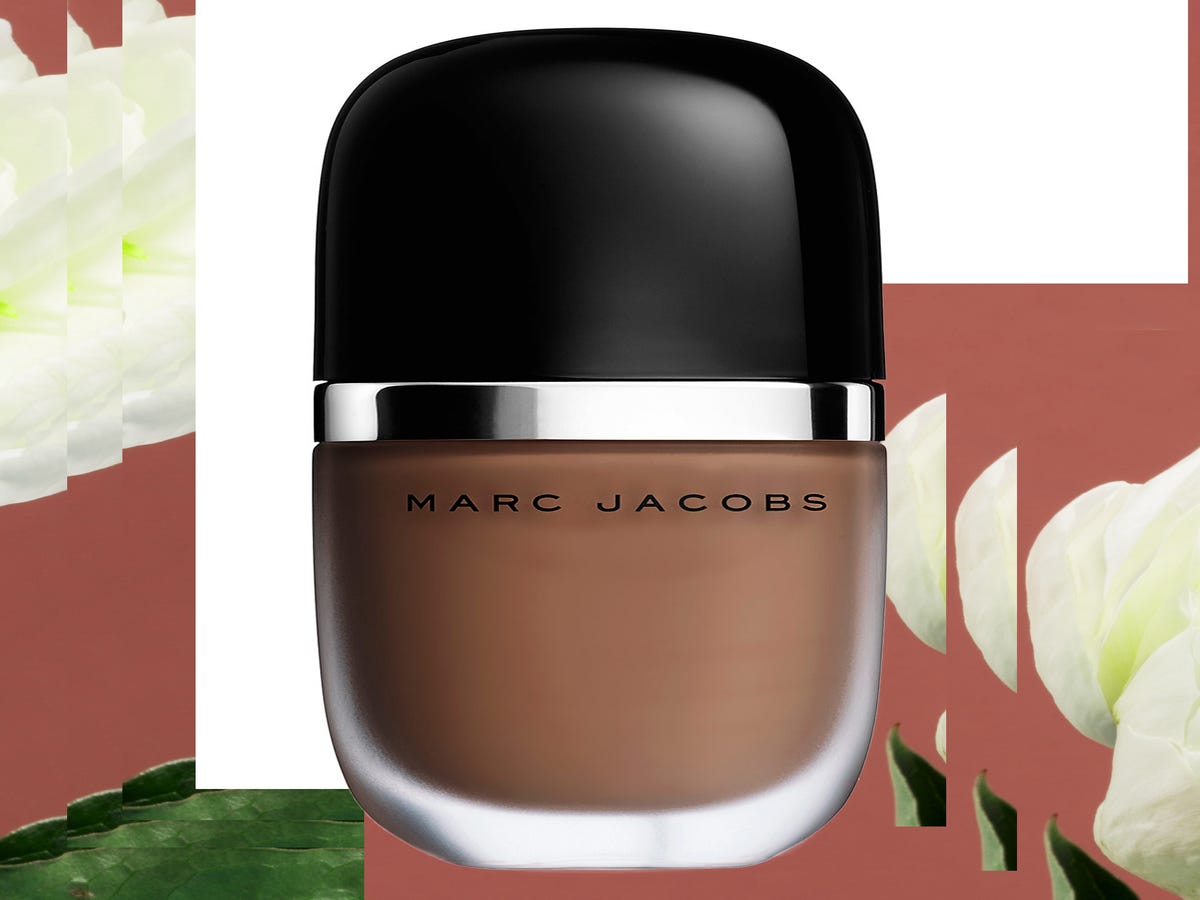 You always want what you can't have — especially when it comes to beauty products. That's why we're getting the inside scoop from your favorite retailers on what's selling out right now , how to sign up for waitlists, and where to go to find the next best thing. Because if everyone's buying it, you know it has to be good.
"Holy moly, my new holy grail!" "Magic in a bottle!" "Love everything about it!" These are just three of the hundreds of glowing reviews for Marc Jacobs Genius Gel Foundation. Clearly, despite the fact that the product hit the market four years ago, excitement for the formula hasn't waned. This week alone, all but one shade of the foundation sold out at Sephora.
We're not surprised. After all, the formula is the perfect medium-coverage blend for winter. It's buildable, long-wearing, and leaves a natural, satin finish on the skin that never clings to dry patches.
Although a number of shades have been re-stocked since Monday, we suspect they won't last long (especially since the foundation is currently on sale). Missed your chance to buy but still need your fix? Check out five alternatives in the slides ahead.
Read These Stories Next:
12 Before & After Photos That Show How Important Your Hair Part Is
I Drank A Gallon Of Water A Day For Better Skin & Here's What Happened
This Eye-Makeup Trend Is Going To Be Huge & It's SO Easy To Copy
Like Marc Jacob's foundation, this formula leaves skin looking radiant, thanks to a formula infused with hyaluronic acid and rose extract. Plus, you only need one pump of the medium-coverage blend to mask everything from redness to light scarring.
Don't be fooled by this foundation's full-coverage claims, it doesn't look cakey or heavy on the skin (as long as you don't go overboard!). We like buffing a dime-sized amount of the gel-like formula all over our face to instantly smooth our skin and conceal imperfections.
Tarte
, $39, available at
Ulta Beauty
This foundation may cost less than a movie ticket, but in our experience, it holds its own against most of the high-end foundations we've tried. The full-coverage formula smooths on without accentuating dry patches or uneven texture, then dries to a matte, budge-proof finish.
Wet n Wild
, $5.99, available at
Ulta Beauty
Unlike Marc Jacob's gel-like formula, Giorgio Armani's foundation is slightly more watery, which makes for an extremely lightweight formula that sinks into the skin in seconds. Despite its featherlight finish, it somehow masks discoloration with ease.
Giorgio Armani Beauty
, $64, available at
Giorgio Armani Beauty
If you're on the hunt for a foundation that'll give your skin an airbrushed finish and cover pimples, undereye, bags, and the like, this $10 bottle is it. The foundation-meets-concealer hybrid has a ridiculously high amount of coverage, so it's best applied with a damp makeup sponge or duo-fiber brush.
Milani
, $9.99, available at
Ulta Beauty
Like this post? There's more. Get tons of beauty tips, tutorials, and news on the Refinery29 Beauty Facebook page. Like us on Facebook — we'll see you there!
Like what you see? How about some more R29 goodness, right here?
This Makeup-Centric Show Would Be Our New Obsession, If Only It Existed
The Best Full-Coverage Foundations That Look Like Skin