Updated February, 2018
I n some areas of the country, riders are fortunate enough to never be facing temperatures in excess of 100 degrees when riding. But for the most part, those riders are also putting their bikes in storage for three or more months out of the year. So the trade-off still seems to favor those who are riding in the heat for a few months each year.
It is important for riders in a super hot climate to be well prepared for the heat and the unique issues that it can cause for riders. One critical piece of gear in hot environments is a good, durable pair of mesh pants.
When the weather is over 100 degrees, it can be very easy to convince yourself that you really don't need riding pants. But the exact opposite is true. This is the time that you need to be ultra careful and protected. Extreme heat is tough on all vehicles and in 100 plus temps you are likely to come across rubber and steel belt debris from blown car tires and oil or other fluids on the road as a result of vehicle mechanical failures. Both of these issues can cause a rider to go down on asphalt that is not only abrasive but also extremely hot.
On a 100-degree day, asphalt can easily reach 138 degrees. To put this into perspective, first degree burns occur at 118 and second-degree burns begin at 131 degrees. Mesh riding pants are not only going to protect you from abrasions and injury due to impact, but they will also provide you with good protection from burns from hot asphalt.
Be sure to check back regularly with us here at wBW to read about our latest hands-on reviews of mesh pants and other great products for riders.
Recommendations
Our Top Picks
Best Overall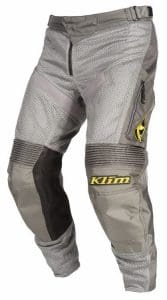 Best Value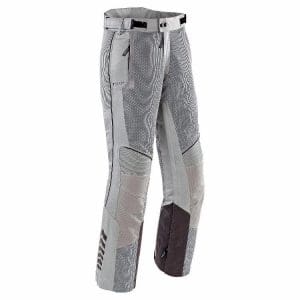 Fully Loaded
Other great options: Scorpion Trey, Cortech Apex Air, Klim Voyage Air
Mesh Pants Buyers Guide
The secret to satisfaction with mesh riding pants is finding a good combination of protection and comfort. And just being hot is not the issue we are addressing. In this case, we are interested in providing airflow for evaporation and natural body cooling when temperatures are high enough to cause illness, physical or cognitive impairment or even worse.
Riders who face these brutal conditions need to be prepared with high-quality mesh riding pants that meet ventilation needs and provide the protection features that are always critical to rider safety. Our evaluations provide riders with the information that they need to determine which mesh pants will best suit their needs for comfort, protection, and air flow.
The Winners
In Detail
Best Overall
Klim Mojave
Klim Mojave
Where: Revzilla | Amazon
Price: $169.99
Durability and superb ventilation are the two key features of the Klim Mojave.
Heavy duty 840 Cordura material is used for durability and protection in the knee, seat and lower leg panels of the Mojave. Mesh panels covering the thighs and hips offer great airflow and help to promote wicking and natural cooling through evaporation. There are also melt-resistant leather panels on the legs to protect from the engine and exhaust heat.
Stretch material is inset at the knees, groin, upper hip, and seat for added flexibility and comfort. The waist adjustment uses Velcro to allow for a custom fit as do the cuffs. Two thigh pockets with zipper closures provide storage and have glove-friendly zipper pulls for easy access. The articulated legs add to the comfort of the fit and also help to reduce fatigue in the hotter conditions.
The higher back yoke is designed to provide maximum protection of the hips and lower back area. Knee and hip pad pockets are in place and allow riders to select the pads and armor that best suits their needs and desired level of protection.
These pants also offer a full liner to promote wicking and add to the level of rider comfort.
At less than $200, the Klim Mojave provides riders with a great option to provide safety features and much-needed ventilation when riding in hot climates, which makes this our choice for Best Overall Mesh Pants.
Buy Klim Mojave
Check Prices on RevZilla  Check Prices on Amazon
---
Best Value
Joe Rocket Phoenix Ion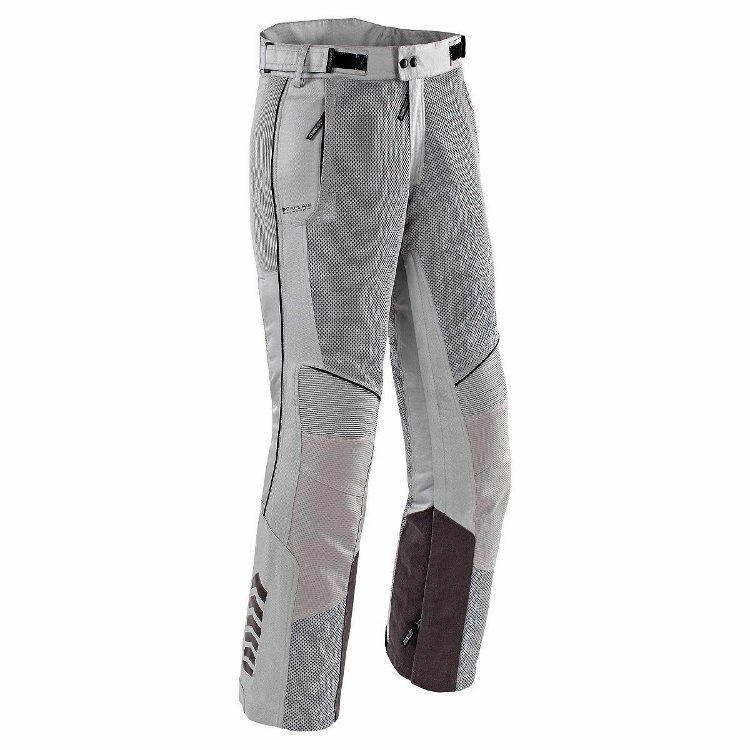 Joe Rocket Phoenix Ion
Where: Revzilla | Amazon
Price: $143.99
The Joe Rocket Phoenix Ion is a masterful blend of safety features as well as mesh for comfort while still being a very affordable pair of riding pants.
The FreeAir mesh shell promotes great airflow on both the front and back of the legs as well as at the hips. The largest solid panels on the Ion's are on the seat and sides of the legs for maximum slide protection.
The safety features in these pants are actually much more impressive than those of some much more expensive pants.
The knee and hip protectors are both CE rated.
The knee protection is height adjustable to ensure a comfortable and safe fit.
The hip protectors are removable.
As an added protection from heat issues, there is a melt-resistant material added to the lower leg area to protect from the extreme engine and exhaust heat.
Comfort features above the mesh ventilation include inseam leg zippers for easy access, FullFlex expansion and articulation panels on the hips, knees and tailbone and an 8-inch zipper for attachment to a Joe Rocket jacket.
Two external zipper pockets also provide plenty of secure storage which is easily accessible using the glove-friendly zipper pulls.
At under $150, the Joe Rocket Phoenix Ion provides a lot of comfort in hot conditions. In addition, the pants include CE rated protection and impressive durability and abrasion protection. All of these features and a great price make the Phoenix Ion mesh pants our selection for Best Value.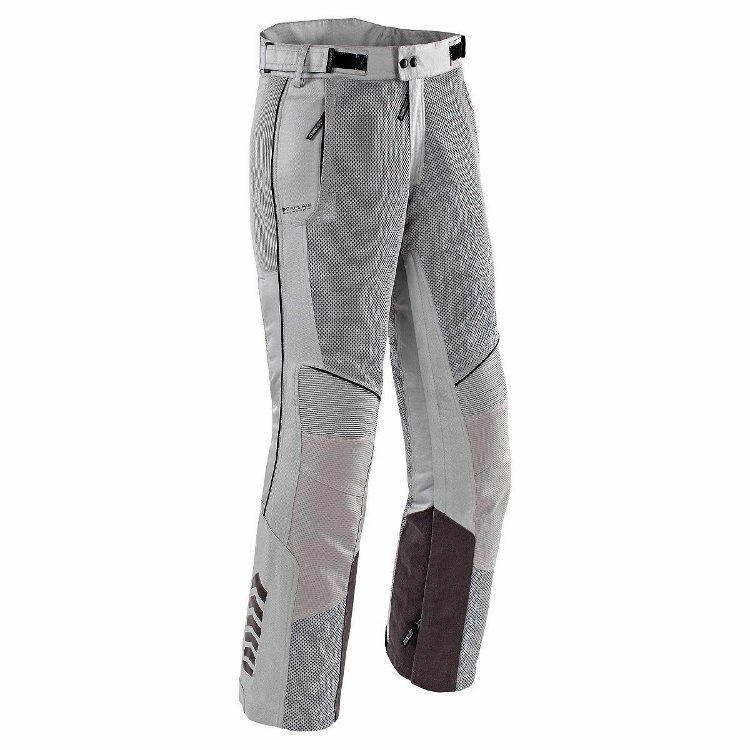 Buy Joe Rocket Phoenix Ion
Check Prices on RevZilla  Check Prices on Amazon
---
Fully Loaded
Dainese MIG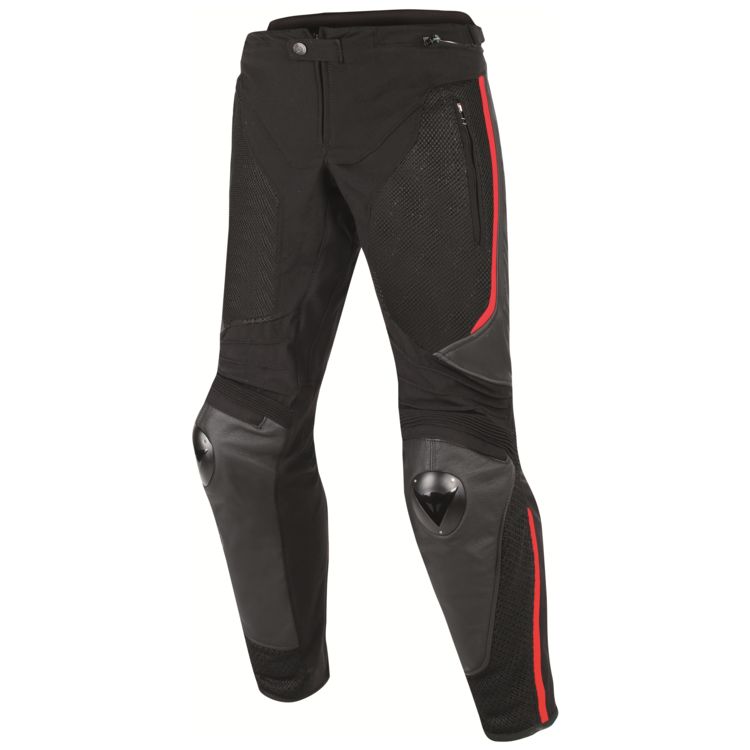 Dainese MIG
Where: Revzilla | Amazon
Price: $339.95
At first glance, the Dainese MIG might not appear to be a great choice for a summer riding pant, but looks can be deceiving. Dainese has created the perfect combination of safety features and mesh to provide riders with extreme comfort and protection.
Panels of washable cowhide leather cover the sides of the legs, hips and knee area for maximum protection from slide abrasion, but the huge mesh panels on the thighs, front of the calves and behind the knee provide plenty of surface area for airflow.
The MIG's also provide composite knee protectors which are certified to 1621.1 standard and aluminum inserts for additional impact and abrasion protection.
The liner for these pants is breathable, sanitized and promotes wicking to allow for better natural body cooling.
Microelacticated inserts, complete waist adjustment, and calf zippers all add to the comfort of these pants and the ease of putting them on and taking them off in hot conditions.
The MIG pants also have the Dainese jacket-trouser fastening system so riders can combine these pants with a Dainese jacket to create a full riding suit for maximum comfort and safety.
All of these features do come at a cost of nearly $350, but for that price, riders are getting maximum comfort and protection in our selection for Best Fully Loaded Mesh Pants.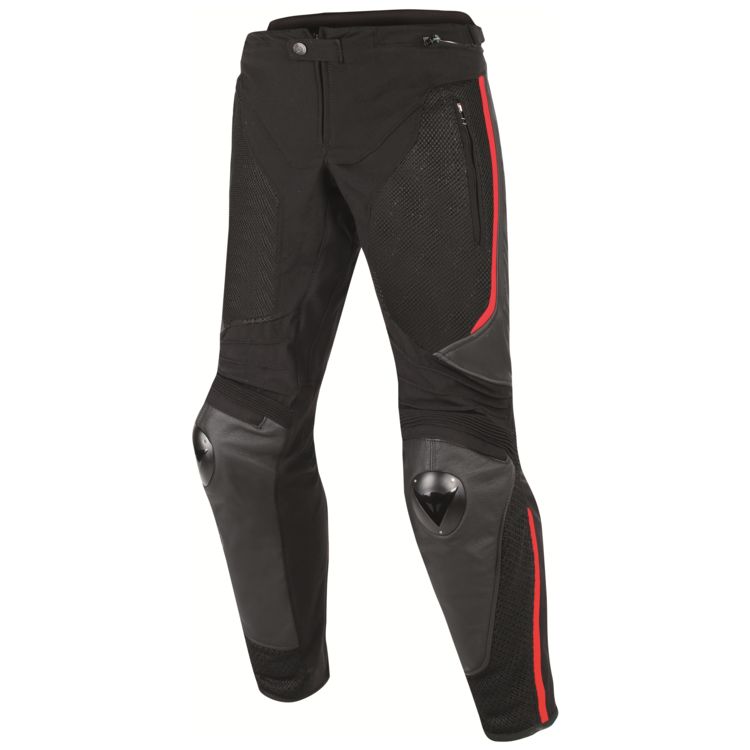 Buy Dainese MIG
Check Prices on RevZilla  Check Prices on Amazon
---
Other Great Mesh Pants
In Detail
Scorpion Trey
Scorpion Trey
Where: Revzilla | Amazon
Price: $199.99 – $224.95
The Scorpion Trey poly mesh vented riding pants offer solid impact protection and abrasion protection while still being comfortable in warmer weather.
Constructed from ballistic nylon, these pants are both durable and breathable. And an added bonus with the Trey is a removable full length linger which is waterproof. This gives riders even more versatility in a single pair of mesh riding pants and also helps to justify the slightly high price of the Scorpion Trey.
Sas Tec CE Level 2 approved SC-01/02 removable armor provides great knee impact protection while SC-1/07 CE Level 1 armor protects the hip area.
840 denier ballistic nylon panels also reinforce the knees for extra abrasion protection.
NightViz piping increases rider safety by increasing visibility at night.
Accordion expansion panels at the knees increase comfort and aid in reducing fatigue in warmer weather.
Dual waist adjustment belts and hem-able cuffs allow riders to fine tune the fit of these pants for maximum comfort.
4 zipper pockets provide riders with plenty of space to secure personal items.
The Scorpion Trey mesh riding pants offer several features which are not common in most mesh pants. In addition, the high-quality impact protection exceeds the level of protection offered by many of the competitors. Even with a slightly higher price, the Trey is a great choice for a solid pair of mesh riding pants.
Buy Scorpion Trey
Check Prices on RevZilla  Check Prices on Amazon
---
Cortech Apex Air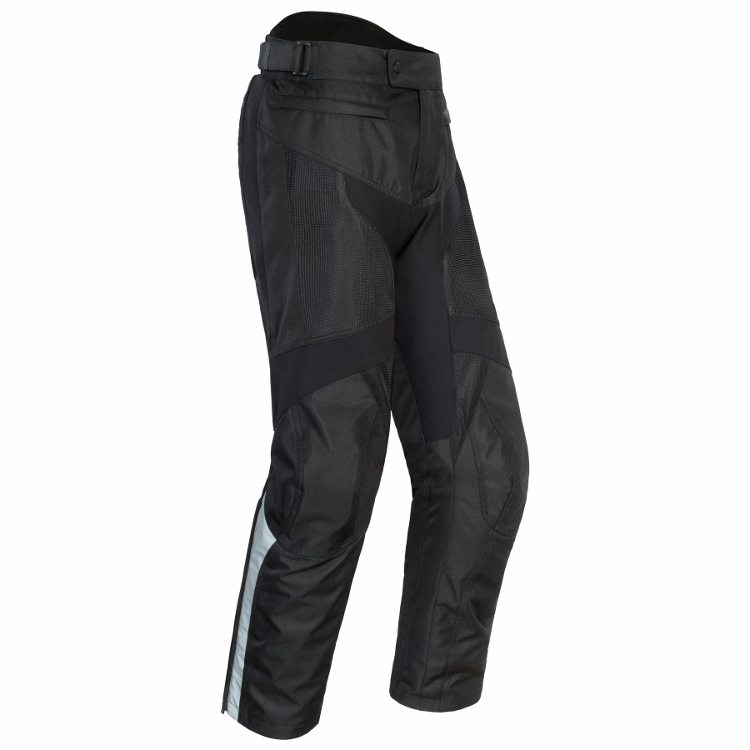 Cortech Apex Air
Where: Revzilla | Amazon
Price: $189.00
The Cortech Apex Air provides high air flow panels in both the front and back of the leg for increased circulation. The addition of the full-length waterproof liner is also a nice added feature that provides riders with added versatility. It makes the Apex Air pants suitable for a cool morning or evening as well as the heat of the day when most pants begin to feel hot and uncomfortable.
Removable CE knee armor is included and fits into the 3 position armor pockets. This feature allows riders to customize the fit according to their leg length. Removable soft hip armor is also included. Added abrasion protection is provided by the 1680D denier panel in the seat of the pants which also minimizes slipping when riding.
Hook and loop waist belts provide a great level of comfort as riders can completely customize the waist size of these pants.
In addition an accordion stretch panel at the back of the waist increases the range of motion and a comfortable fit.
Stretch fabric panels are also inserted at the crotch, outside of the leg and the upper knee for a better fit and greater comfort.
Extra long side entry lower leg zippers also make it very easy to put these pants on and take them off even in hot conditions.
At less than $200, the Cortech Apex Air offers riders a great deal of versatility in a pair of mesh pants that are ride ready. Complete with armor, mesh venting, and a full liner, the Apex Air is ready to face any summer ride and provide comfort and protection.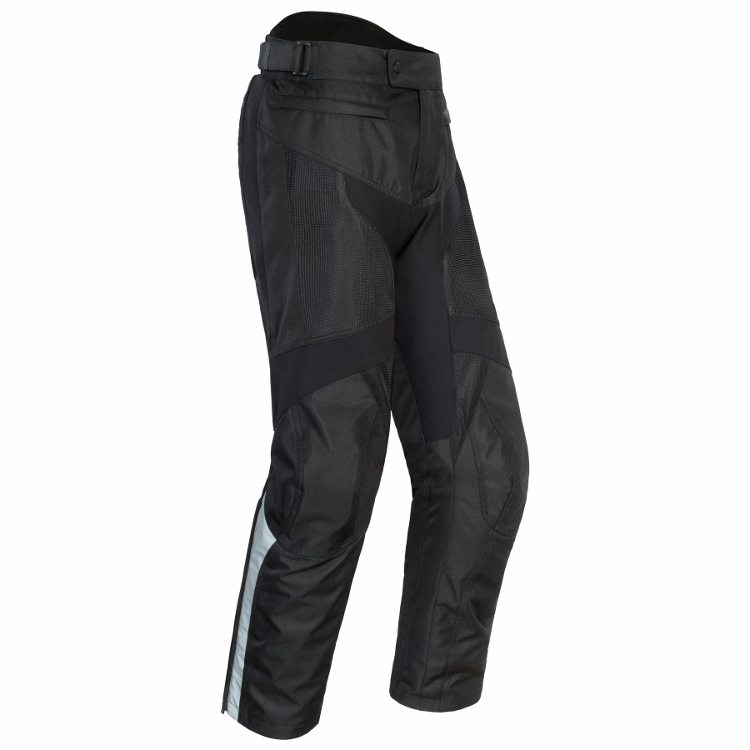 Buy Cortech Apex Air
Check Prices on RevZilla  Check Prices on Amazon
---
Klim Voyage Air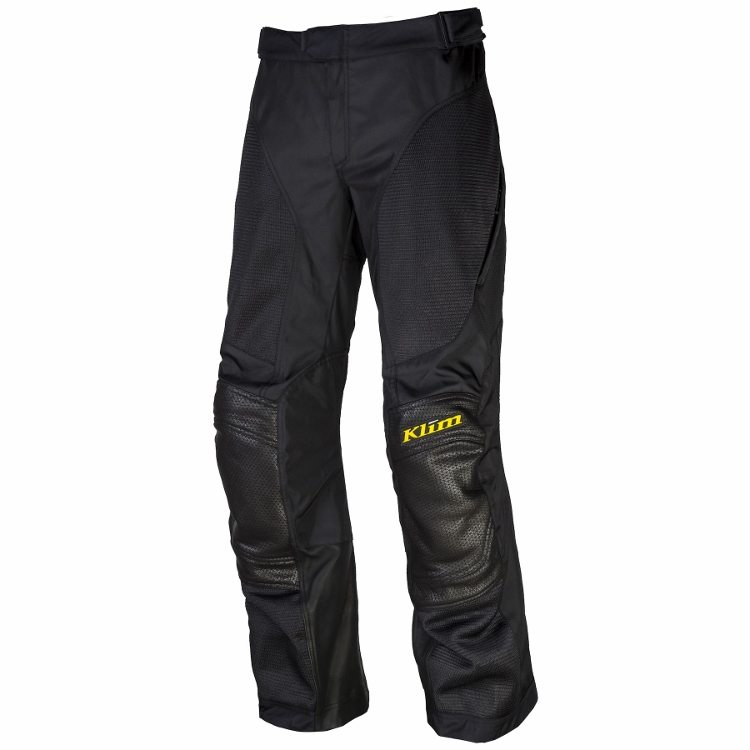 Klim Voyage Air
Where: Revzilla | Amazon
Price: $299.99 – $319.99
Klim is now offering riders a great option for both protection and comfort even in the hottest and humid conditions.
The blend of tear resistant mil-spec Karbonite nylon mesh and Cordura allow the Voyage Air to provide maximum airflow and comfort for riders.
Leather panels on the inside of the lower leg provide additional protection from engine and exhaust heat while leather on the knees provides added abrasion protection.
The Voyage Air comes complete with D30 EVO hip pads and knee pads.
The knee pads also offer custom adjustments for the location via a hook and loop system.
This allows riders yet another means of customizing the fit of these pants for maximum comfort.
Additional comfort features include extra ventilated mesh at the back of the knees to reduce heat and moisture build-up, a breathable and moisture wicking mesh comfort liner and low profile waistband adjustment.
The Voyage Air also offers the standard Klim Zipper system to attach the pants to any Klim jacket for the added comfort and safety of a full riding suit.
Great features and great versatility are why the Klim Voyage Air is one of our recommendations as a great option for mesh riding pants for a hot climate.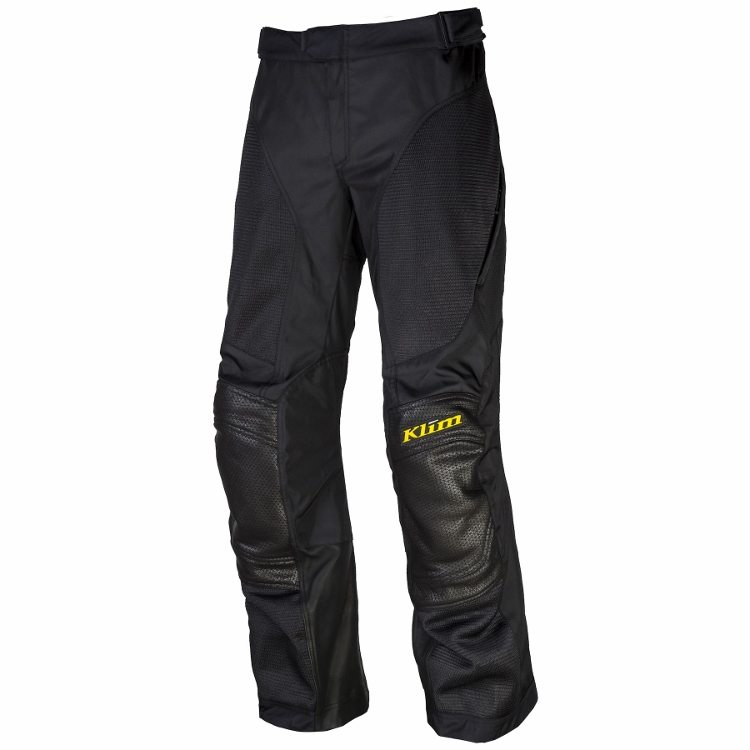 Buy Klim Voyage Air
Check Prices on RevZilla  Check Prices on Amazon
---
The post Gear Guide: Best Mesh Pants appeared first on Web Bike World.