Ryder uses his customers' existing bikes to build his distinctive cargo creations.
(Photos: James Buckroyd)
You may have seen Jake Ryder's creations via J_ryde on Instagram, ogled the cyclocross images he shoots as Sellwood Cycles' official photog, or heard his name from a friend who is into Zoobomb or freak bikes. Either way, Jake is a multi-talented maker who has carved a niche based on his unique perspective on cycling.
I visited his shop in southeast Portland recently to learn a bit more about him.

We first talked with Jake when he was first settling in to the Portland bike scene. He moved to Portland nine years ago from Seattle, where he refined his skills in sculpture and furniture fabrication. He also discovered an interest in bikes. Originally from Washington state with a degree in Graphic Design and Sculpture, Jake worked for many years as a metalsmith and glass artist, and spent some time in corporate design jobs — all while soaking up the Seattle cycling scene. Several years later Jake has developed a unique, bike-centric viewpoint and business that has resonated with Portland.
As with many other local creators, Jake has many passions that he transposes into his final bicycles. He take aspects of cycling, freak bikes, sculpture, sustainability, glasswork, metalsmithing, and woodwork — then smashes them all together with a dollop of status-quo-challenger attitude.
Jake has designed and crafted bespoke pieces of furniture from steel, glass and wood for 20 years, but his passion shines when you get him to talk about his bike creations. From uber-utility to uber-freak — and combinations of both — Jake has challenged normal bike perceptions with geometric designs that look radically different, yet are joyful to ride and have amazing handling qualities.
The funky looking Ba-Donk-a-Donk challenges normality of bicycles and creates conversations and interest because of it's different aesthetic, yet it's fun to ride in a booty-shaking way.
Ryder's Humuhauler, a conversion that used a Kona Humuhumu and has seating for two kiddos, is for sale for $3,950.
Advertisement
-->
A Zoobombfiets.
(Photo: Jake Ryder)
This customer wanted more room to carry her beloved pooch.
(Photo: Jake Ryder)
From his shop in southeast Portland, Jake designs and crafts bikes that often start with old bicycles from his customers' basements; bikes which were perhaps treasured racing steeds or that hold special memories. Working with the customer to determine the exact solution, he transforms their old bikes into cargo bikes or functional works of art, depending on their needs. A fresh breath of life is brought to an often loved, or otherwise unused item.
"People's lives change, families grow and steel bikes allow you to reuse them, add on, modify and extend the life. This expression has carried through from Zoobomb bikes to utility cargo bikes."
Jake has found that having a variety of hands-on skills, and a mind that can think in design terms, has allowed him to offer bikes that you'd never find at a regular bike shop or be able to afford from a traditional custom bike maker. His customers enjoy the collaboration and creation of an item that is unique and offers a great story, whether an attitude-changing art piece or a new family cargo hauler.
Jake takes on all kinds of fabrication projects, from architectural railings to truck racks, many of which can be found on his Instagram or website, FietsofStrength.com.
— James Buckroyd, @buckyrides on Twitter and Instagram, BuckyRides.com
Never miss a story. Sign-up for the daily BP Headlines email.
BikePortland needs your support.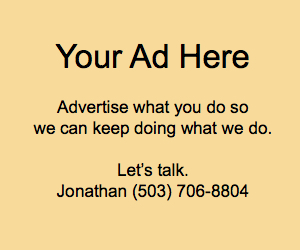 -->
The post The creations of 'Fiets of Strength' builder Jake Ryder appeared first on BikePortland.org.