Remember the first time you shaved? It probably went something like this: One day, your mom came home with an extra set of pink razors and offered you some kind words of guidance like, "Please be careful and take your time," or, in my case, "Scream if something goes wrong." After years of watching those comically ecstatic Venus razor commercials, you knew roughly what to do once you got in the shower, sliding that pink razor over your armpits full of stubble and your hairy legs. What was revealed was silky, supple skin that made you feel like a walking, talking goddess.
It was a high that was frankly hard to come down from. But come down we did, especially once we realized that women's razors, for the most part, suck. I can't count the number of times I've gotten a new razor, been thrilled to shave with it for the first time during my nightly shower, and then woken up the next day to find legs that feel like those prickly hairless cats. (Ever held one? I wouldn't recommend it.) Or, how about shaving at night and then waking up to red, irritated bumps along your bikini line? That's fun, too. Oh, and are these razors cheap? LOL, girl, NO. After all, the pink tax exists.
We've had enough. It's 2019. We all deserve to stop wasting our money on razors that simply don't work. Ahead, our editors broke down the ones that do the damn jobs — and do it well.
At Refinery29, we're here to help you navigate this overwhelming world of stuff. All of our market picks are independently selected and curated by the editorial team. If you buy something we link to on our site, Refinery29 may earn commission.
"For years, I've been perplexed by how most shaving commercials only show women shaving hairless body parts (because that makes sense). So when subscription-based brand Billie launched with a campaign showing women shaving actual hair off their bodies, it caught my attention.
"For the past few years, I've used the cheapest razors at CVS without really thinking much about how one $10 pack of razors could really be that different from the next. But when I tried the Billie razor, which has a flexible head and an aloe shave soap surrounding the blades that makes shaving cream unnecessary, it's like I was awoken. Now I actually look forward to shaving. The fact that Billie's razors come in colors that match my bathroom exactly doesn't hurt either." — Rachel Lubitz, Senior Beauty Writer
Billie
Billie Starter Kit, $9, available at
Billie
Courtesy of Billie
"Intuition and I go way back. The razor first launched right around the time my mother finally allowed me to switch from hair removal creams (remember Nair?) to a real, bladed razor. Unfortunately, like a lot of women who start shaving, I found myself bleeding from nicks almost every time I showered. To avoid further wounds, I begged my mother to buy me the Intuition razor. Its four blades are hugged by about two inches of solidified shaving gel that not only helped me avoid going to school with Band-Aids all over my knees, but also left my skin super smooth and baby soft. To this day, I keep a stock of these razors underneath my bathroom sink." — Sam Sasso, Beauty Writer
Schick
Intuition Sensitive Care With Natural Aloe Razor, $9.99, available at
Target
"It's a little insane that it took until 2018 for a mass drugstore brand to launch a metal women's razor. I have spent years replacing the cheap plastic handles that melt into my shower caddy, while my boyfriend has been using the same one since college. (The pink tax is so real!) While I could technically use the men's version, I find that it's just not as flexible around the bikini line, ankles, knees, and toes. But this one is! I've gone to town on my bikini line with it and have yet to find a single bump. And with a sturdier handle, I'm much better at replacing the razor heads after three or four uses." — Cat Quinn, Beauty Director
Gillette
Venus Platinum Extra Smooth Metal Handle Women's Razor, $9.97, available at
Amazon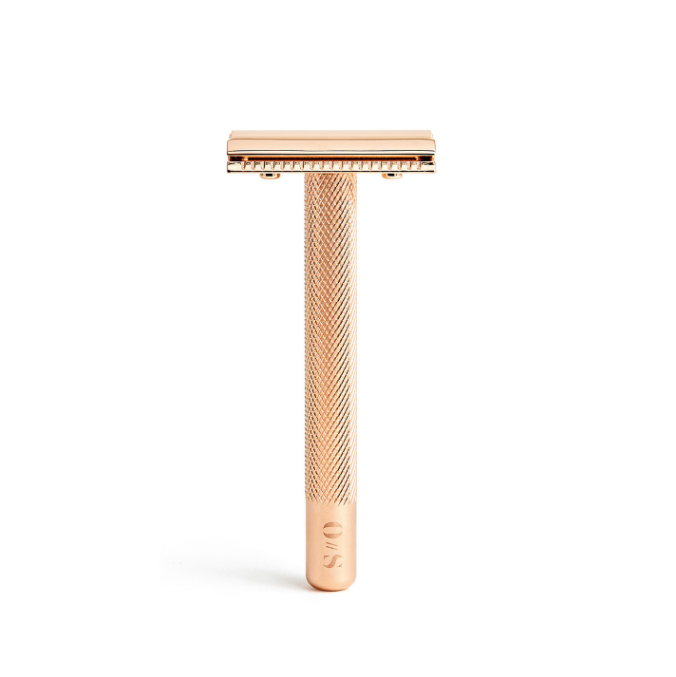 "As someone who balks at the $13 price tag of three disposable razors, you'd think a $75 model would insult me on principle. Not so! In fact, it's really quite economical and better for the environment, too — less plastic to throw in the trash, yada yada yada. Anyway, the Oui is expensive but good. The weighted handle makes it so you don't have to apply any pressure at all to get a really close, smooth shave, which is excellent for anyone who tends to cut themselves while shaving. Also it's very sexy and rose gold and makes me feel like that Queen of Versailles lady with the half-finished mansion outside Orlando." — Rachel Krause, Senior Beauty Writer
Oui Shave
The Rose Gold Single-Blade Razor, $75, available at
Oui Shave
"This may go against the rules in the unwritten beauty bible but — I don't shave my legs with shaving cream. Not for any particular reason other than being lazy AF and never having time for that extra step. But my legs are, thankfully, never left bruised, bloody, or dry thanks to the Venus ComfortGlide Razor. This razor has five blades cushioned between two buttery Olay bars. It glides over my skin and leaves behind moisture with every pass. I can literally shave my legs with my eyes closed and never worry about stabbing my leg or scraping them dry (although, for the record, I don't recommend blind shaving). It also comes with a shower hook, so I can keep my blades in shape for a few uses instead of leaving it to rust in a random corner of my shower caddy." — Aimee Simeon, Beauty Writer
Venus
Gillette Venus ComfortGlide plus Olay Coconut Razor, $9.99, available at
Target
"Even though this Venus Snap is meant for travel, it's been my main shaving tool for the last three years (literally, I've held on to the same base for that long). I should probably also mention that I only shave like six times a year — once a month from May to September. I love that this Venus razor comes in a convenient carrying case that protects the blades from rusting in my shower as my razor sits idle during the winter months, and something about the short, round handle makes it easier to get in those curves behind the knee and under my arms." — Jessica Cruel, Deputy Beauty Director
Venus
Snap Cosmo Pink Women's On-the-Go Travel Razor, $6.79, available at
Target
Like what you see? How about some more R29 goodness, right here?
How To Get Better Skin In 30 Days (Or Fewer)
8 Makeup Remover Wipes For When You Just Can't Even
Dr. Pimple Popper Episode 2 Features A Cyst That Looks Like A Unicorn Horn