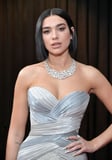 Dua Lipa turns heads the moment she walks into a room on a regular basis, and her Grammys arrival was no exception. We noticed her gorgeous silver dress as soon as she hit the red carpet, but seconds later when we noticed her intricate nails, we couldn't wait to zoom in on the details. The 23-year-old singer, who just won the Grammy for best new artist, rocked the hell out of stiletto manicure adorned with intricate sparkling jewels.
The manicure looked lavish and expensive, but it was actually created with Target products. Celebrity manicurist Kimmie Kyees created the look using polishes by Defy & Inspire, the affordable brand exclusive to Target. To get the look, use colors Gauntlet, Crazy Kind of Beautiful, and Over the Top ($7 each).
Lipa's silver nails with gold accents only made her skintight dress pop even more, and we're obsessed with the entire look. See more photos of the eye-catching nails ahead, and then catch up on all of this year's Grammys red carpet looks.
Related: These Sexy Red Carpet Looks From the Grammys Will Leave Your Jaw on the Floor