It's easy to feel overwhelmed shopping on Amazon. Not that we don't do it all the time (because free, two-day shipping is the bomb), but you can't help but let out a heavy groan when you realize you're almost out of an essential — say, shampoo — and a simple Prime search pulls up 351 pages of what seems like every bottle ever made.
Fret not, because we're here to help. After skimming through thousands of handmade soaps and razor-refill boxes, we compiled the best beauty deals available on Amazon right now. From luxe hot tools, like the Chi curling wand, to the prettiest Stila balm lipstick, we've got every winter beauty essential to add to your first (or second or third...) Prime order of the year.
Scroll through all the goods ahead, and add them straight to your cart — zero filtering required.
At Refinery29, we're here to help you navigate this overwhelming world of stuff. All of our market picks are independently selected and curated by the editorial team. If you buy something we link to on our site, Refinery29 may earn commission.
This 7-month supply of eyelash-growth treatment — the same one Olivia Wilde swears by — typically retails for $150, but it has been marked down to just $111 on Amazon this week.
RevitaLash
RevitaLash Advanced Limited Edition: 7 month supply, $111.13, available at
Amazon
Like the name suggests, Stila's Color Balm Lipstick is a hybrid of a creamy balm with the color payoff of a lip stain. And right now, you can grab any of the 12 shades for just $11 each. Heck, maybe grab two.
Stila
stila Color Balm Lipstick, $11, available at
Amazon
La Roche-Posay makes a whole range of gentle skin-care products that dermatologists, and people with super sensitive skin, buy in bulk. And right now, some of the brand's best sellers — including this soothing moisturizer — are on sale at Amazon.com.
La Roche-Posay
Toleriane Ultra Intense Soothing Moisturizer, $29.99, available at
Amazon
Amazon is an authorized retailer of your Elizabeth Arden favorites, which means that you can trust that all of the brand-name makeup — like this airy foundation mousse — is the real deal, even when it's on super-sale.
Elizabeth Arden
Elizabeth Arden Flawless Finish Mousse Makeup, $27, available at
Amazon
If you're looking for the prettiest, sheer nude — a glossy veil that's there, but soft — grab Smith & Cult's Doe My Dear for a your-nails-but-better look.
Smith & Cult
Smith & Cult Nail Polish Neutrals in Doe My Dear, $17, available at
Amazon
Lash-boosting serums can be pricey — usually over $100 — and we're willing to splurge for naturally long, fluttery lashes. But now you can also reap the benefits of stronger, shinier, healthier eyelashes, in a luxe natural formula, for less than $40.
Talika
Lipocils Eyelash Treatment Supplement, $39.9, available at
Amazon
Eyeko's beloved Lash Alert mascara in a sweat-resistant 'Sport' formula: Your new throw-in-your-gym-bag mascara, on the cheap, when you shop it right now.
Eyeko
Eyeko Sport Brush Mascara, Black, $18, available at
Amazon
For just $9, you can ward off winter dryness with a handy face-mist spray. This one's naturally rich in minerals and antioxidants, to help restore your skin's moisture barrier every time you squeeze the nozzle.
Vichy
Vichy Mineralizing Thermal Water Rich in 15 Minerals, $5.5, available at
Amazon
In the winter, it can be tough to find the right exfoliating cleanser — one that sloughs away the top layer of dulling dead skin, but is still gentle enough to use every day without destroying your face's delicate moisture barrier. This pump-able Elemis face wash does both, leaving skin glowy, but not at all irritated.
Elemis
ELEMIS Dynamic Resurfacing Skin Smoothing Cleanser, $39.2, available at
Amazon
Any self-tanning aficionado knows St. Tropez bronzing mousse is one of the best formulas on the market. If you're looking for the brand's deepest offering — maybe before an upcoming beach vacation in the dead of winter — grab the Dark mousse, which is on sale for a limited time.
St. Tropez
St. Tropez Self Tan Dark Bronzing Mousse, $39.63, available at
Amazon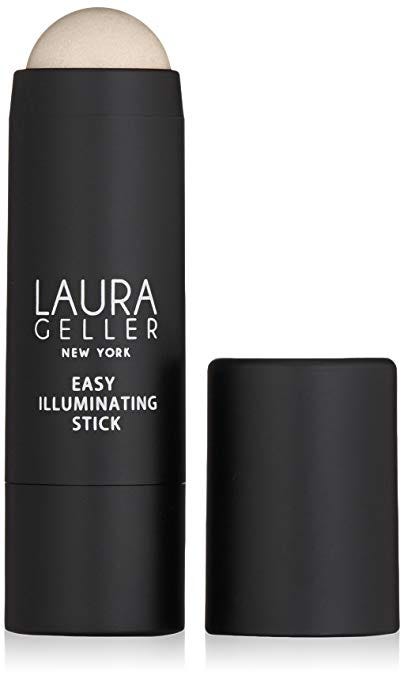 A winter makeup essential, this handy chubby-stick illuminator is a quick fix for dull skin. Just roll it onto the high points of your face for an instant dewy glow.
Laura Geller
Laura Geller New York Illuminating stick, $20.8, available at
Amazon
If an upcoming cocktail party has you showing off your knees and shoulders for the first time since, well, the last holiday party, an instant bronzing lotion will give you a smooth sun-kissed glow the night of.
St. Tropez
One Night Only Wash Off Face & Body Lotion, Medium/Dark, $14.9, available at
Amazon
Amazon reviewers compare this charcoal peel-off mask to a quick-and-dirty pore strip — but better — as it helps to unplug blackheads from pores, leaving skin tight and radiant.
Boscia
boscia Luminizing Black Charcoal Mask, $27, available at
Amazon
This felt-tip eyeliner adds a little oomph to your lash line, making your eyes look wider and more awake with just one swipe.
Eyeko
Eyeko Black Magic Liquid Eyeliner, Carbon Black, $22, available at
Amazon
If you've been debating upgrading to a fancy electric toothbrush to show off a pearly-white smile in the new year, let this 30%-off sale be your excuse to treat yourself.
Philips Sonicare
Series Plaque Control Rechargeable Electric Toothbrush, $59.91, available at
Amazon
Upgrade your body lotion to something a tad fancier-smelling than whatever you grabbed at Target last month — like this classic citrusy body butter, which is just $9 for limited time.
Bliss
Body Butter — Lemon & Sage, $9.99, available at
Amazon
If you're looking for a blush to add a hint of warmth to your cheekbones during the dry season, consider grabbing this best-selling marbled-peach compact by Laura Geller.
Laura Geller
Laura Geller New York Baked Blush, $22.4, available at
Amazon
If you've been shopping around for an easy-to-use hair tool that will give you soft beach waves, this snazzy styler is a great option. The spin feature twirls your hair into loose curls, which means no contorting your fingers around a hot barrel.
Chi
Air Spin N Curl 1 Inch Ceramic Rotating Curler, $99.99, available at
Amazon
A winner of this year's Refinery29 Beauty Innovator Awards, this idiot-proof bi-directional razor is just $7 and change when you grab it on Amazon right now. That's 50% below its retail price.
Schick
f.a.b. Razor, Effortless Shaving for Women, $7.29, available at
Amazon
Like what you see? How about some more R29 goodness, right here?
Everything You Want To Know About The HydraFacial
Butt Masks Have Arrived At New York Fashion Week
I Stopped Drinking For 30 Days — & My Skin Got So Much Better