Despite being famous for more than 50 years now, Dolly Parton has been remarkably good at keeping some things secret. Her personal life? She's got a husband, but he's hardly ever seen. What she looks like without makeup or even natural makeup? Ha, that's a good one. What's her real hair look like? Pfft, not a clue. Who even does her hair? We! Don't! Know!
But there is one critical thing we do know about her, and it is this: Dolly Parton lives for a wig. She has been wearing them her entire professional career, which spans way back into the '60s. The reasons for this are quite practical. First, Parton has spoken openly about her fine hair, and how she understood from a young age what would happen to it if it was styled, dyed, and manipulated every single day. Also, the wigs save her a lot of time. "It's so handy, and I'm always so busy," she told Jimmy Fallon in 2014. For a woman with a stage persona that's nothing less than grand, of course wearing wigs would be easier. You can just plop one on and go. Back in 1977, when Barbara Walters asked Parton how long it takes for her to do her hair, she replied: " I don't know — 'cause I'm never there!"
Parton has been wearing wigs for so long that they're part of her public persona, which she doesn't want to veer from after decades of crafting it so perfectly. "It's important because I don't want someone to see me and be disappointed," Parton told the Associated Press in 2003. "It got to be fun for me, a conversational piece. But this is how I think I look the best. I'm not a natural beauty, and this is just the look I chose."
The Queen of Country has decades upon decades of experience rocking hairpieces, wearing wigs through trends like '60s bouffants, '70s Farrah Fawcett feathering, and even '80s mullets. Click through to see how her hair has evolved through the years.
1965
When we say Dolly's been wearing wigs her entire career, we mean it. This photo was taken in 1965, when she was an up-and-coming 21-year-old singer/songwriter in Nashville, Tennessee. As you can tell, Parton has had a lifelong devotion to having the biggest hair in the room.
Photo: Michael Ochs Archives/Getty Images.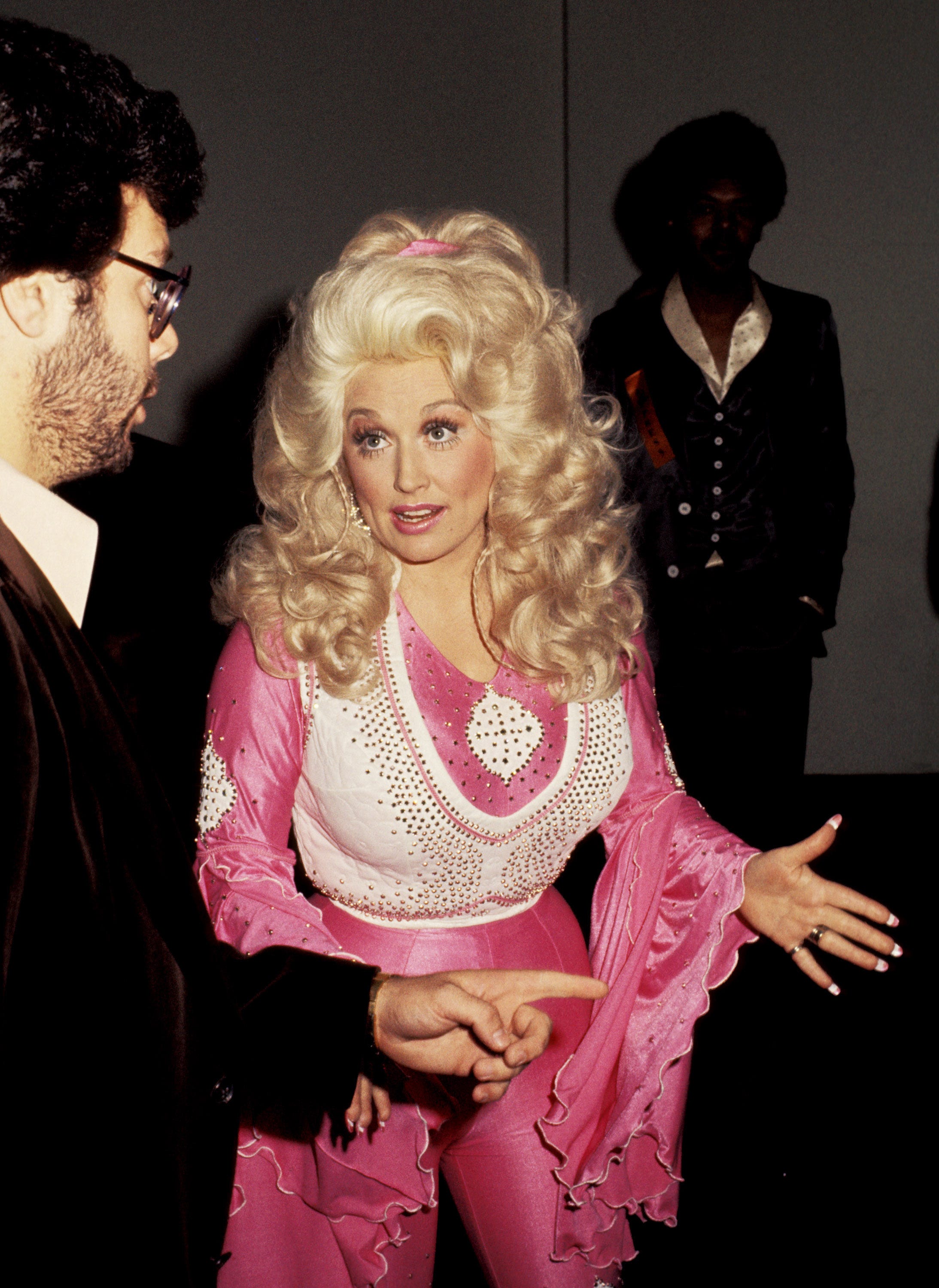 1977
There's fashion envy, there's hair envy, and then there's head-to-toe, literally everything envy. In this photo of Parton at the 1977 Grammys, let's first look at that hair — the thick blonde curls styled into a glorious mane. Oh, and peep that ribbon at the top? She was so ahead of her time. Of course we can't ignore that jumpsuit. Satin, hot pink, and emblazoned with crystals, have you ever seen anything more fantastic?
Photo: Ron Galella/WireImage.
1980
This is Parton at the 1980 premiere of 9 to 5, arguably one of the best films that has ever been created. By the '80s, Parton started to favor more spherical wigs, as you can see here.
Photo: Ron Galella/WireImage.
1989
By the end of this tumultuous hair decade, Parton's fashion theme was pretty rock 'n' roll, which called for wigs with ample volume at the crown and looser curls down past her shoulders. Also, again, can we talk about this 'fit?
Photo: Ron Davis/Getty Images.
1995
Imagine you're walking through LAX and this vision is walking towards you? We'd faint. But seriously, Parton strutted through the airport in 1995 with perfectly feathered bright blonde hair. An icon then and an icon now.
Photo: Jim Smeal/WireImage.
2002
By the early 2000s, Parton started to wear shorter, lighter wigs with more volume on the sides than the top. During this era, she loved hair with flared-out ends, as did basically everyone in 2002.
Photo: L. Cohen/WireImage.
2014
But that instinct to wear hair slightly more manageable (and definitely much lighter) hair didn't last long. By 2014, Parton was back to wearing hair that was voluminous, long, feathered, bleach blonde, and far from understated. Performing at the Glastonbury Festival (seen here), she appears to have been inspired by herself in the '80s.
Photo: Tabatha Fireman/Redferns/Getty Images.
2019
And here is Dolly Parton just last night at the 2019 Grammys, looking every bit like the icon we've known for more than 50 years now. After many years in the spotlight, she knows the exact image she wants to project. So, no, those wigs aren't going anywhere anytime soon.
Photo: David Crotty/Patrick McMullan/Getty Images.
Like what you see? How about some more R29 goodness, right here?
Long Ponytails Ruled The Grammys — Even Without Ariana Grande
Cardi B Wore Craft-Store Pearls & $3 Hairspray To The Grammys