Depending on where you live, a glance outside will likely confirm that it's not summer yet. But while it may feel impossibly far away, the season of sunshine and Summer Fridays is just around the corner. It may be too soon to completely turn over your wardrobe, but you can start thinking about what tweaks you might make to your house or apartment. We're talking new couch cushions for the outdoor sofa, curtains that let in a little bit more light, or festive throw pillows that breathe new life into an old couch.
We asked interior designers for their recommendations on which colors to integrate in your home this summer. They predict red, a range of blues, and black and white will be big this season. Still not ready to move on from spring? We've got ideas for that too.
Midnight Blue
"There is nothing more romantic than summers night skies. There is a certain twinkle and mystery in a midnight blue that alludes to those wonderfully warm nights gathered around a fire on a beach or a midnight swim," says interior designer Sasha Bikoff.
Caribbean Blue
"I am a surfer girl so anything that alludes to the ocean alludes to the summer time. Its happy, fresh, and fun," adds Bikoff.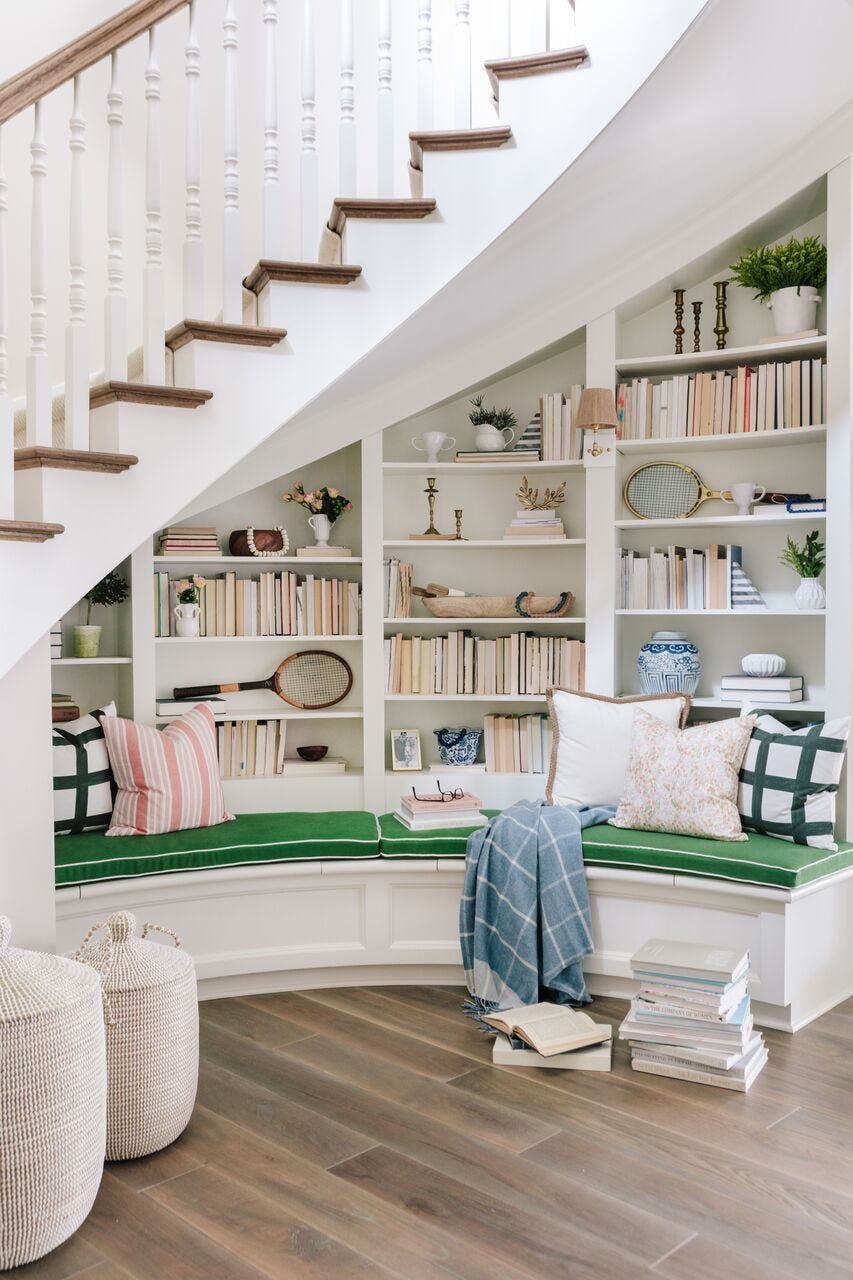 All Kinds of Green
"One of our favorite colors for summer is green, as it feels fresh and organic – a nod to the season itself," says Bria Hammel of Bria Hammel Interiors. "Although there's a large spectrum of greens to choose from, lately, we've been loving a traditional, emerald green. We used this color in a custom bench cushion for a reading nook in one of our most recent projects. We love the lively, unexpected touch it brought to the space, making it one of our favorite moments in the entire home."
"All the greens, all the time," agrees Kate Lester of Kate Lester Interiors. "From mint to a deeper forest green, I think that green is one of the most underused colors in interior design. It not only helps provide continuity with any exterior landscaping and foliage, it is a unique choice and immediately becomes a conversation point in any room!"
Bright Red
"Bright red is one of my favorite colors to use this summer. A bright splash of red, even in the smallest form, can make a big statement. It is an energetic, fun and stylish color that will add a lot of impact to any space," shares Alexander Doherty of Alexander Doherty Design.
"Red has many-shaded faces as well as extensive pairing capabilities that allows individuals to push beyond their limits. Red is both inspiring and direction setting from a minimalist design straight to a maximalist look," agrees Michael Amato, Creative Director of The Urban Electric Co.
Robin's Egg Blue
"Summer is all about fresh colors, which can serve as a neutral," says interior designer Anne Hepfer. "We painted this lakeside bedroom in a soft, robin's egg blue to create a serene atmosphere, layering with a palette of pistachio green and pale aqua textiles to add interest. The robin's egg blue walls evoke the view of the sky and lake outside, bringing the outdoors in."
Pink Punch
"What's the perfect pink? It's actually Interface Tan from Sherwin Williams #6059," explains Barbara Schmidt, an interior designer and the founder of Studiobstyle. "This color is what desert sand looks like in the shade. It's a soft tone with just enough raw umber undertone to feel weighted and sophisticated. This color is great to blend with warm tones or cool tones making it a great neutral for the season."
Black
"Can black be the new black?" asks Lester. "Because, it totally is. As far as I am concerned every space should have a hint of black to anchor it and provide contrast, but this summer we are kicking it up a notch and adding this moody hue on cabinetry, walls and furniture."
New Navy
"The new navy is a summer color I am loving at the moment," says Danielle Walish, Creative Director of The Inside. "Navy used in a fresh and modern way, or in other words, not your grandmother's navy. Of course, navy always shines in a classic cabana stripe, but I'm excited to pair it with mint green and pinks. Also, why not try using navy instead of (or even with) black!"
Mustard Yellow
"A summer color we are loving at the moment is mustard yellow. For this dining room the walls are a stained banana leaf wall covering. We chose it because it was bright and beachy but also at night it creates a warm glow. With soft lights, the room has an amber light as it reflects off the walls," share Caroline Grant and Dolores Suarez of Dekar Design.
Brittany Ambridge
Bright Purple
"I absolutely love implementing bright purple during the sunny seasons. It reminds me of the intense colors of the Wild Indigo flower. It's bold and daring and so fun for summer!" says Maureen Stevens of Maureen Stevens Design.
Coastal White
"Coastal White is such a simple yet stunning wall color for summer. It's reminiscent of the coast and is soothing and tranquil, and results in effortless beach house vibes," adds Stevens.
Not-So-Neutrals
"I'm loving rich jewel tones paired with organic elements for spring and summer. Incorporating hues such as deep teal, sodalite blue ,or marigold yellow with a foundation of earthy neutrals brings depth and vibrance to a space without feeling overly trendy," says interior designer Stefani Stein.
Lisa Romerein
Like what you see? How about some more R29 goodness, right here?
Don't Sleep On Brooklinen's Dreamy Bedding Sale
22 Home Sales Worth Shopping This Week