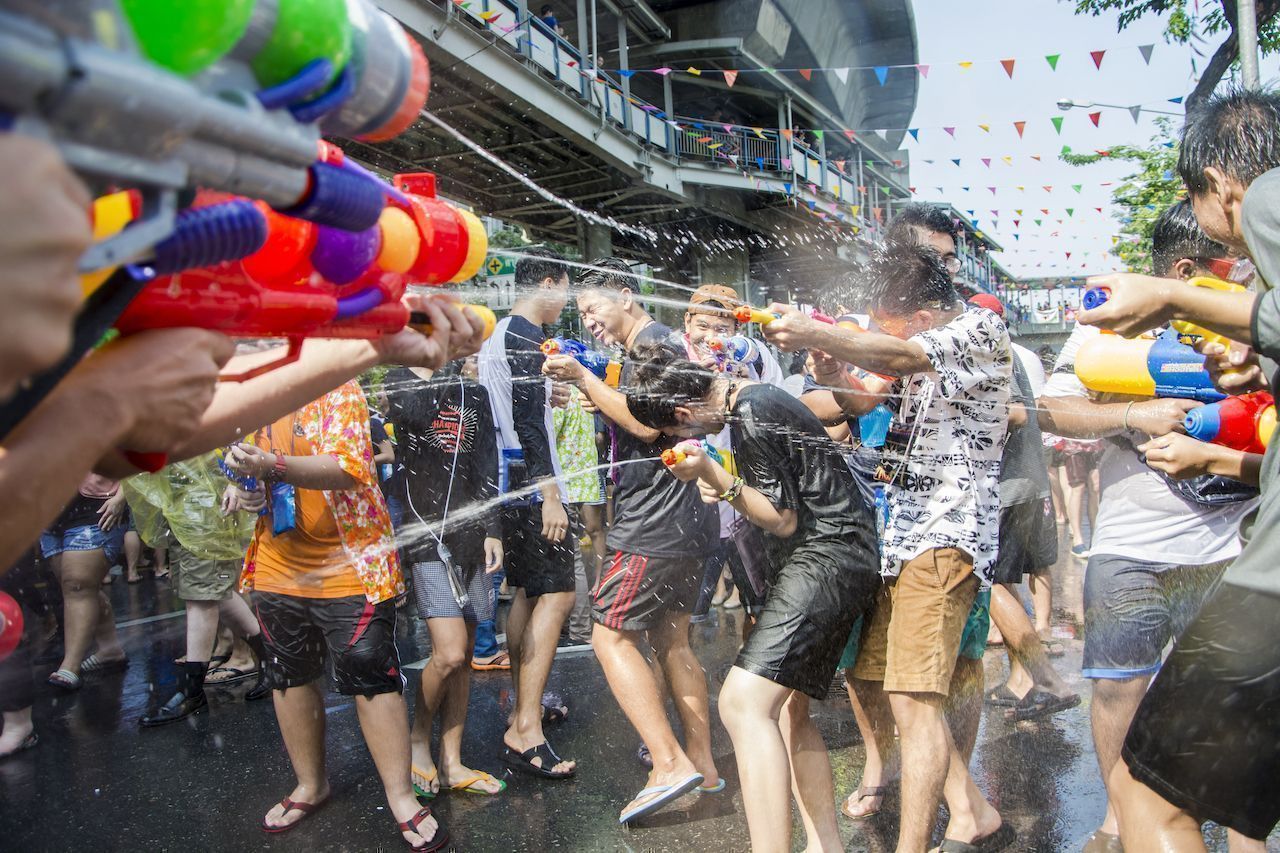 Despite an old adage about April showers, the fourth month of the year is really when life starts to return to much of the planet. The long winter has defrosted and left with it cherry blossoms, baseball, and plenty of end-of-winter parties, combining to make this one of the most enticing months to get out and see the world. But the best places to travel in April aren't always the most obvious, where festivals you may never have heard of offer better times than well-worn destinations. So read on to see our picks for the 12 best places to go in April, and let your springtime imagination run wild.
1.
Curacao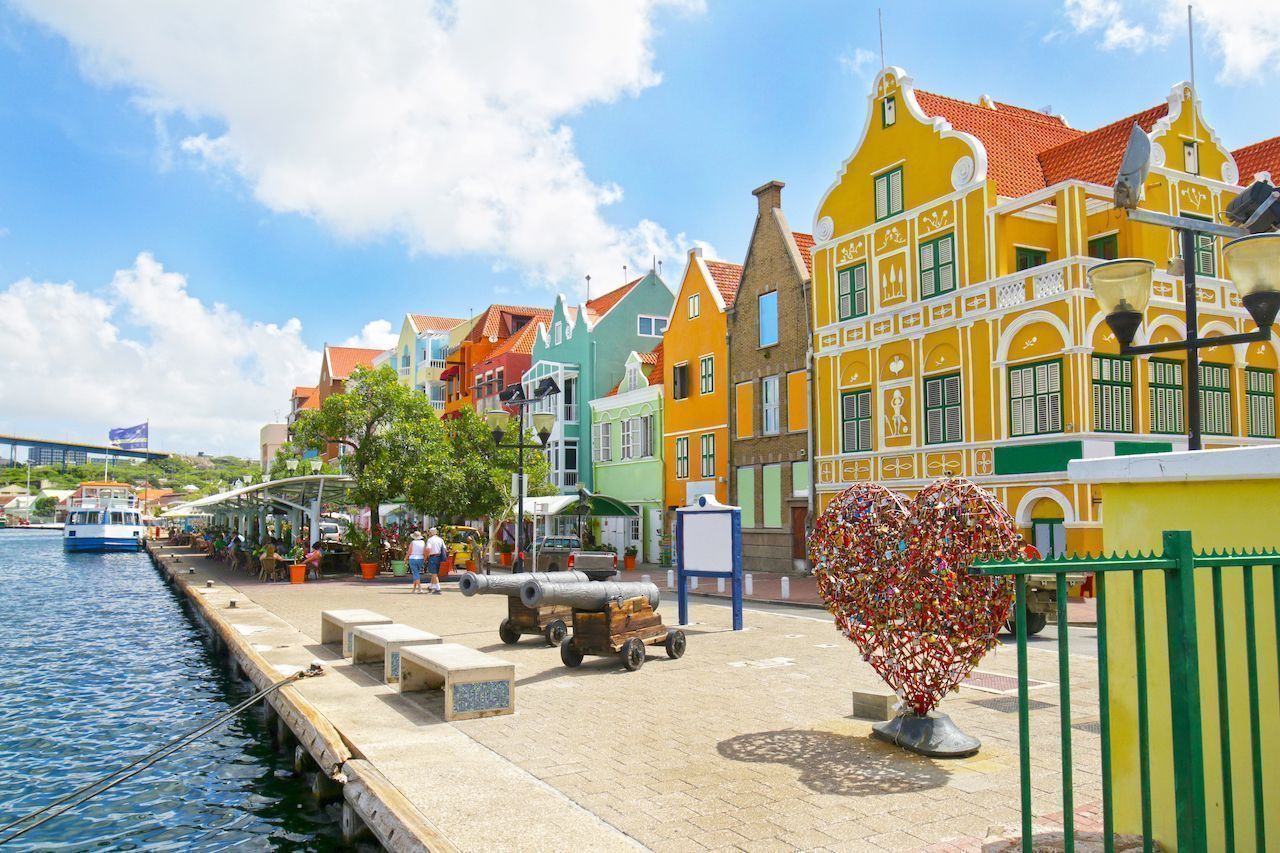 Photo: Birdiegal/Shutterstock
Not that this colorful island is ever lacking for excitement, but in April the party lasts all month…and it's not even Carnival. The month kicks off with Curacao Culinair from April 3-5 where open-air food markets fill the island with savory smells. That gives way to the island's annual Seu Harvest Parade on the 13th and the Curacao Film Festival from April 21-26. But the biggest party of the month will come with the BlueSeas Festival, a jazz and blues fest that's been headlined in past years by Buddy Guy and Leon Russel, and draws the largest crowds of the year after Carnival. The fun's not over after that, though, as April ends with the block parties and orange-clad revelers of King's Day on the 27th.
2.
Zurich, Switzerland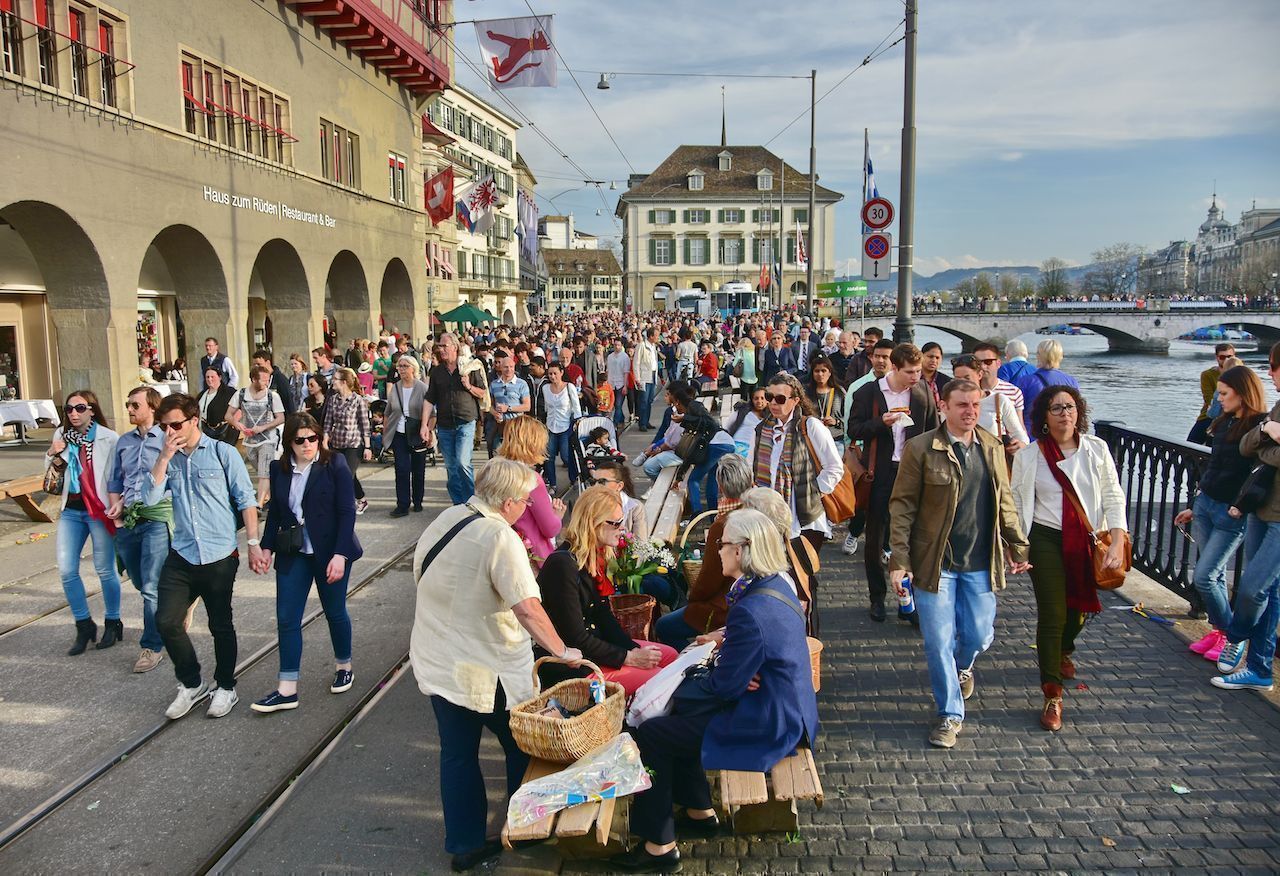 Photo: dnaveh/Shutterstock
Switzerland in the spring is always a magical time, as you'll still be able to spot snow atop the alpine peaks, and will also find days where you can walk around in shorts. Zurich makes for an especially interesting destination this month with its "Burning of the Boogg," part of the annual Sechseläuten festival. Part Burning Man, part Groundhog Day, this event celebrating the end of winter involves building a 12-foot snowman atop a 30-foot pyre, then lighting said pyre on fire until it reaches the snowman's head. His head is filled with fireworks, and the sooner they explode, the better summer will be, according to tradition. Once the snowman is gloriously decapitated, the crowd roasts sausages on the embers that rain down.
3. Norfolk, Virginia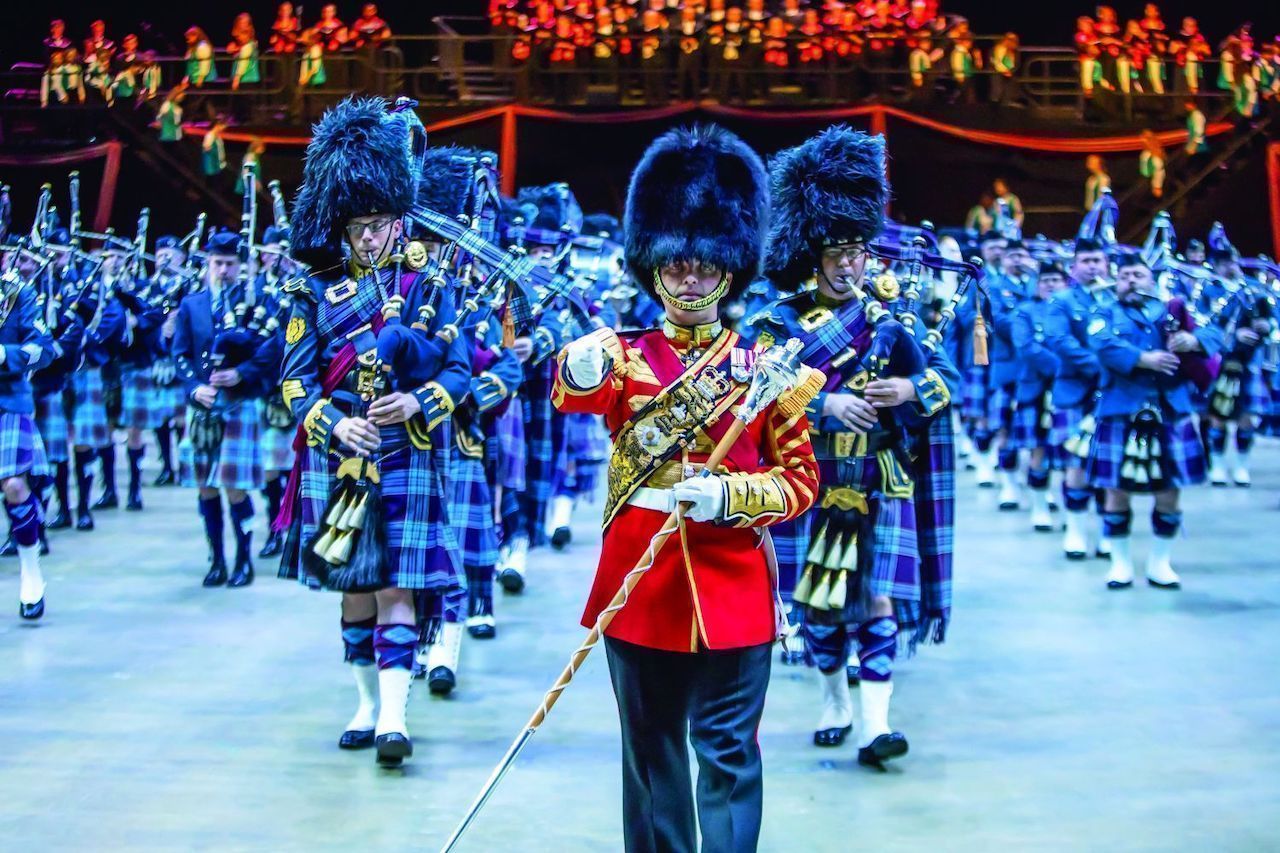 Photo: Virginia Arts Festival
This April, the cultural capital of the Mid-Atlantic is undoubtedly…Norfolk? Yep. The Virginia Arts Festival is hosting its cornerstone event in this naval hotbed from April 17-19 when the Hong Kong Ballet's ALICE (in wonderland) comes to town. It's the only stop on the company's US tour to be accompanied by a live symphony orchestra, and will feature dazzling costumes from Cirque du Soleil's Liz Vandal. A different kind of performing arts will be on display on the 30th at the 2020 Virginia International Tattoo. Not a festival of creative body art, it's a military celebration with over 1,000 international performers including drummers, drill teams, dancers, and musicians honoring the 75th anniversary of the end of World War II. It draws over 25,000 people to Norfolk each year.
4.
Chicago, Illinois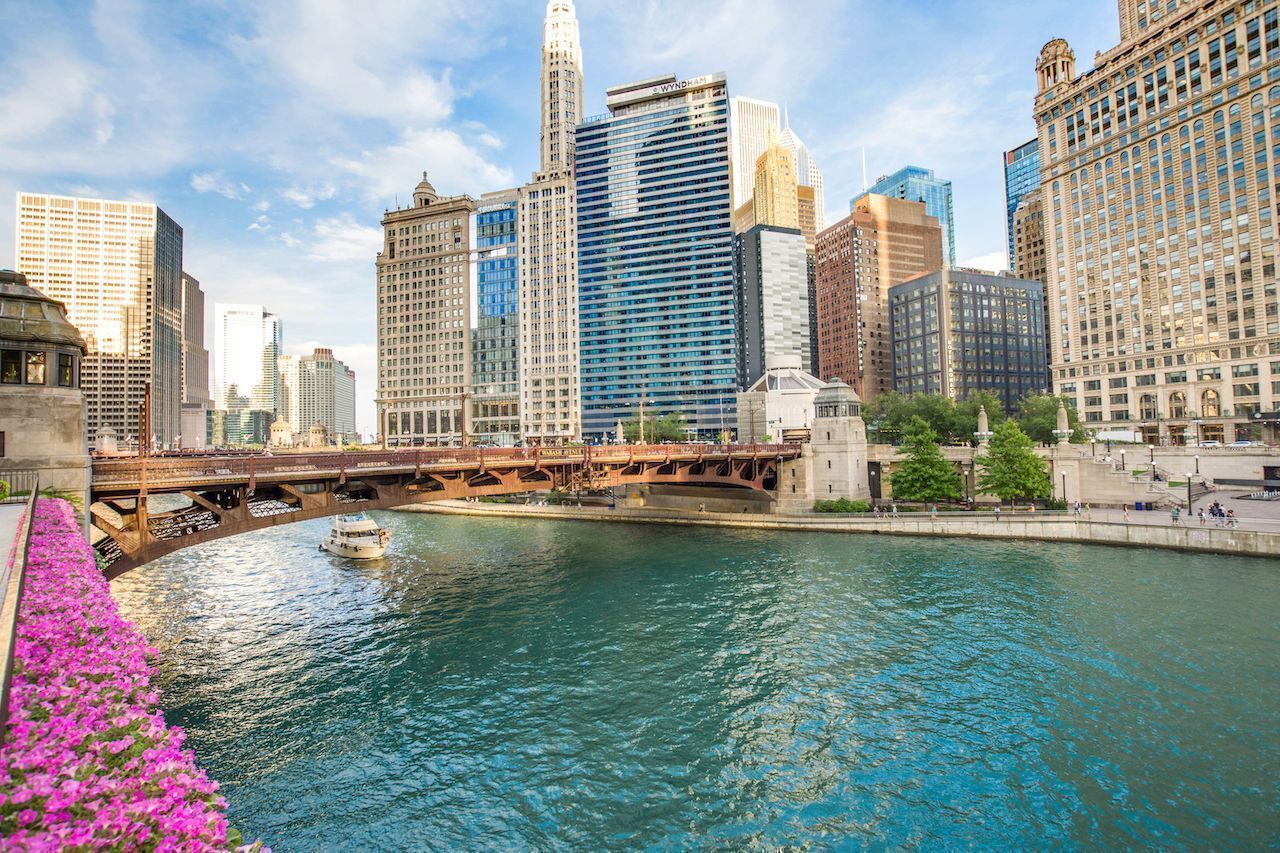 Photo: Christian Hinkle/Shutterstock
Cannabis lovers, mark your calendars. The most recent major city to legalize recreational marijuana takes advantage of its first sunny days of 2020 with the Illinois Cannabis Convention on April 3. If that feels a little too corporate for you, visit from April 19-25, when the city hosts the first-ever Chicago Cannabis Week. For non-partakers, you may find the longest-running Asian-American film festival worth checking out, as the 25th anniversary of the Asian American Showcase runs from April 3-16. While we make no promises about the weather, the Cubs and White Sox will be back in action in April. And the new 21c Museum Hotel debuts its first curated collection called "This We Believe," featuring provocative works by THE KID, Kota Ezawa, Titus Kaphar, and others.
5.
Monaco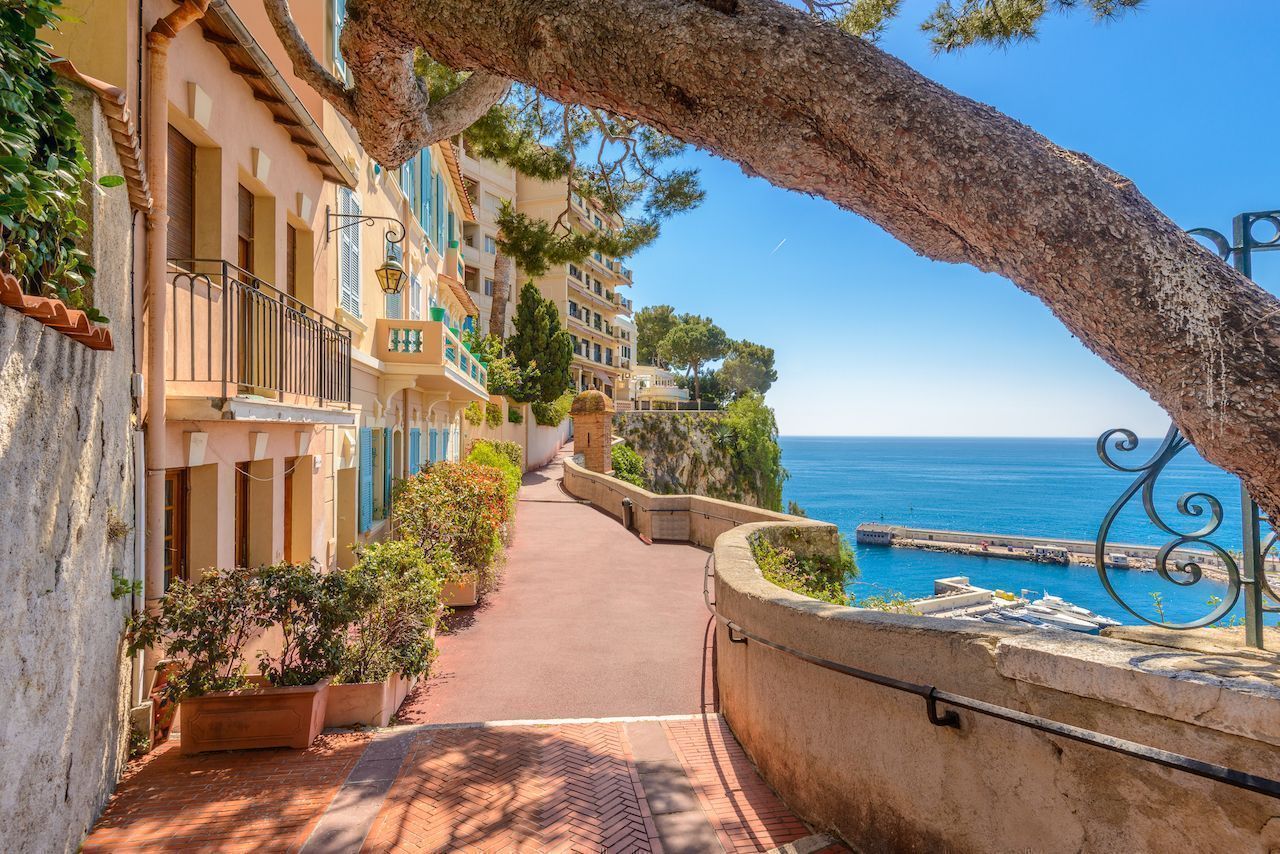 Photo: karamysh/Shutterstock
Where better to experience the release of a new Bond movie than the city that's become synonymous with 007? The No Time to Die premiere hits the principality on April 6, and if you book a VIP stay at the Hotel Metropole you'll get the chance to walk the red carpet with the stars of the show. Even if you're not there for the premiere, the Metropole will have a whole month of Bond experiences for anyone who books a stay in the Suite Carré d'Or, including a private tour of the famous casino, an Aston Martin tour of the French Riviera, and a helicopter ride over the Mediterranean.
If you're not ballin' like a Bond villain, you can still Bond on a budget in Europe's most expensive capital. The city's biggest attractions — like the zoo, oceanographic museum, royal palace, and even the casino — can be done for less than 50 euros a day. And you can close out your day with 5 euro pints right on Port Hercules during happy hour at Brasserie de Monaco.
6.
Jamaica
Photo: Ovidiu Curic/Shutterstock
Though some who are less-familiar with the Caribbean may believe Carnival runs more-or-less the same time everywhere, that's not at all the case. And in April, it's Jamaica's turn to throw a soca-fueled party to end all parties. From April 15-21, towns and cities all over the island will throw massive street parades, and visitors are welcome to join a band, throw on an outrageous costume, and jump right alongside the locals. Jamaica will be another big destination for James Bond fans, as the latest film in the 007 franchise was shot on the island. In addition to visiting the filming locales from that movie, visitors can also hit Dunn's River Falls from Dr. No and Falmouth Crocodile Farm, which was prominently featured in Live and Let Die.
7.
Orlando, Florida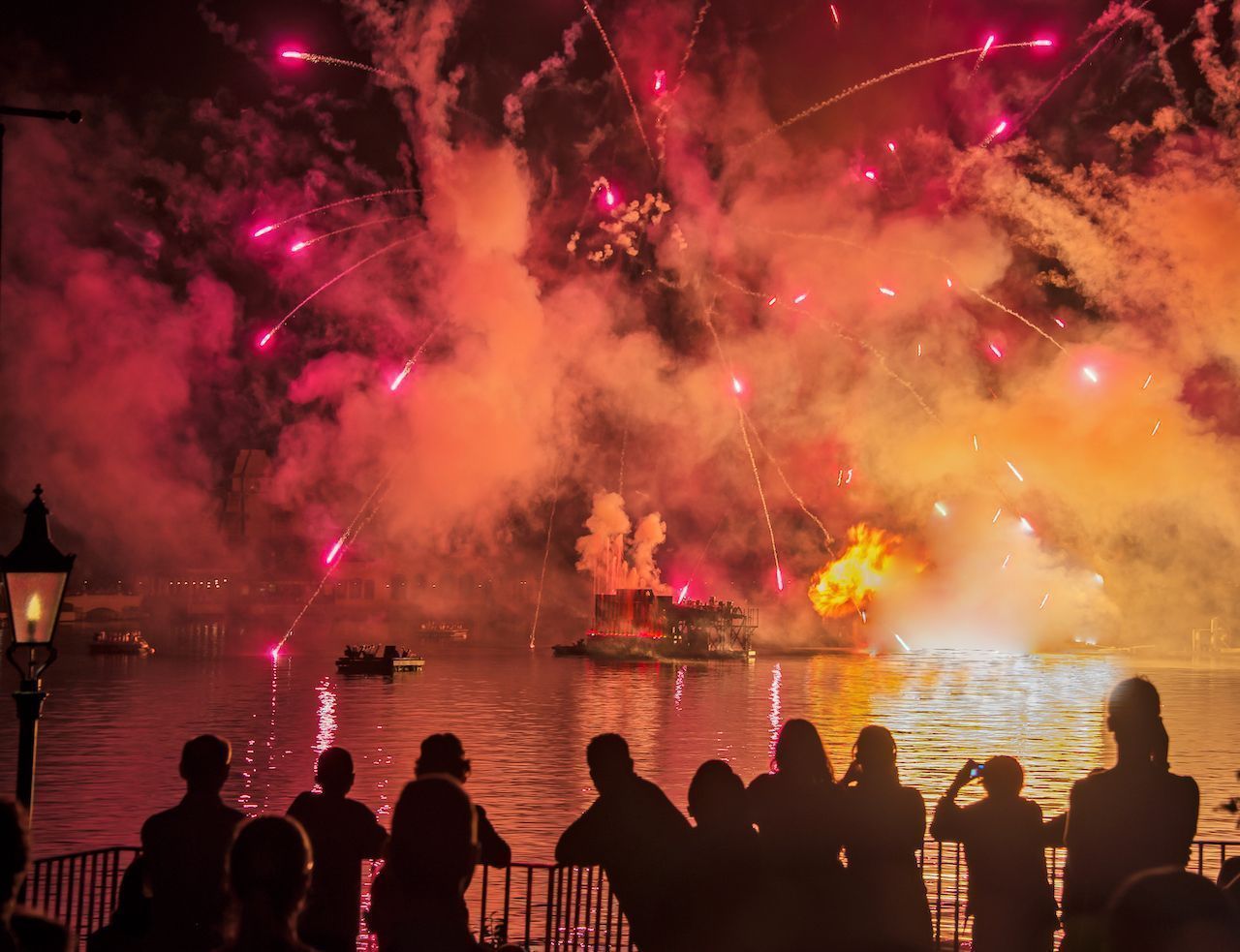 Photo: Wagner Santos de Almeida/Shutterstock
Word to the wise: The later in April you go to Orlando, the better your life will be. Because despite pleasant weather, spring break can make the theme parks a nightmare. So wait until the kids are back in school, then check out the brand new Cirque du Soleil show Drawn to Life at Disney Springs. Or experience Epcot in full bloom during the Epcot International Flower and Garden Festival. If you've been to Disney World before and are looking to mix up your experience this time around, check out one of the lesser-known, exclusive night-time experiences.
Away from the parks, April also brings MEGACON — the largest fan convention in the southeast — from the 16th-19th. Captain Kirk himself Willian Shatner will be on hand, as well as Weird Al Yankovic, Jim Lee, Encino Man Brenden Fraser, and all four hobbits from The Lord of the Rings. Plus you'll have the chance to attend meet and greets with Addams family member Christina Ricci, Breaking Bad's Giancarlo Esposito, and many other on-screen favorites.
8.
Thailand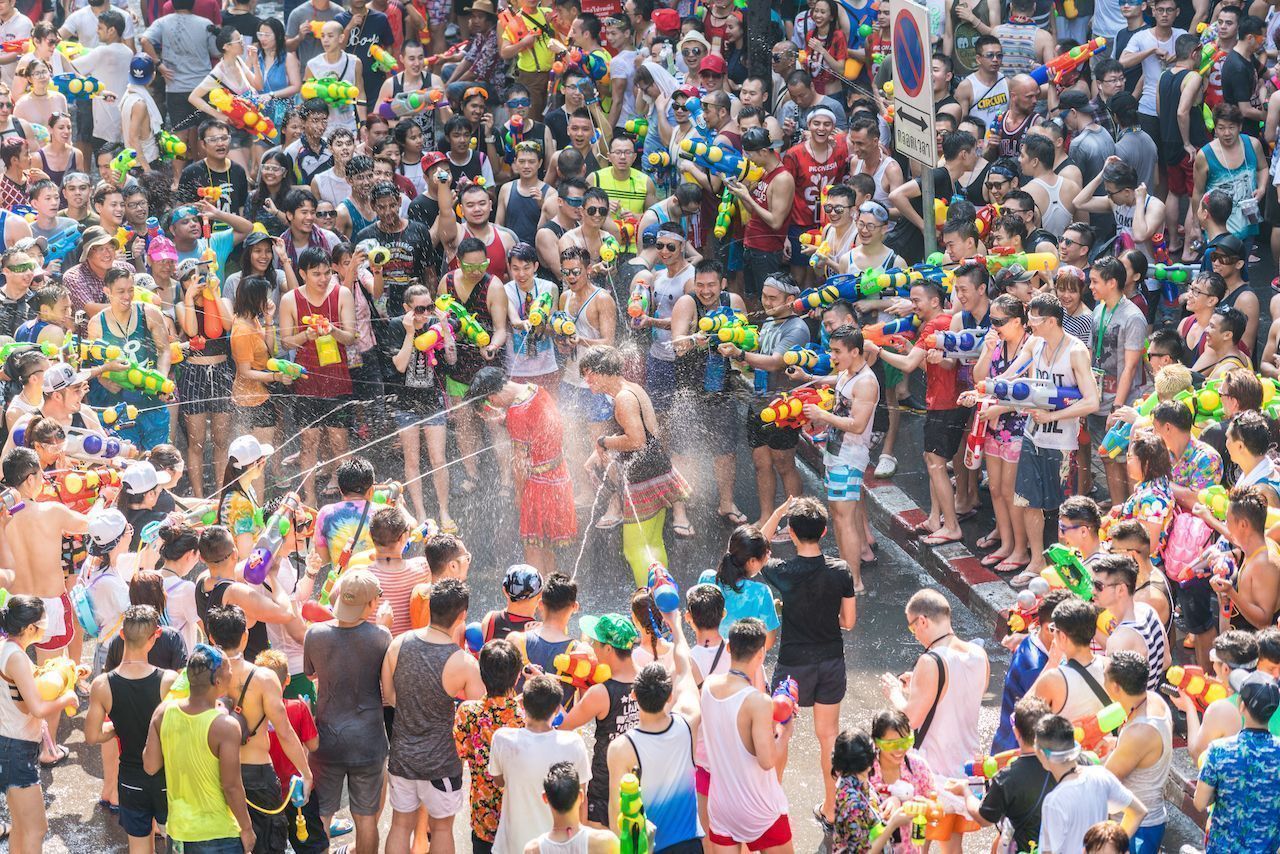 Photo: Mr. JK/Shutterstock
The world's biggest water fight goes down countrywide from April 13-15 during Songkran, the Thai New Year's celebration that's observed by throwing water on literally everyone you see. The only way you're staying dry is if you're elderly, holding a baby, or a monk. Even elephants get into the action, so trust no one. For something even crazier, hit the half-moon party in Koh Samui, an all-night rave that rivals the famous full moon affair at Haad Rin. Beyond the festivals, the April shoulder season brings minimal rain and lower-than-average prices, making it an ideal time to explore places like the turquoise waters and colorful reefs of Koh Tao or the idyllic Pai River valley towns.
9.
New Jersey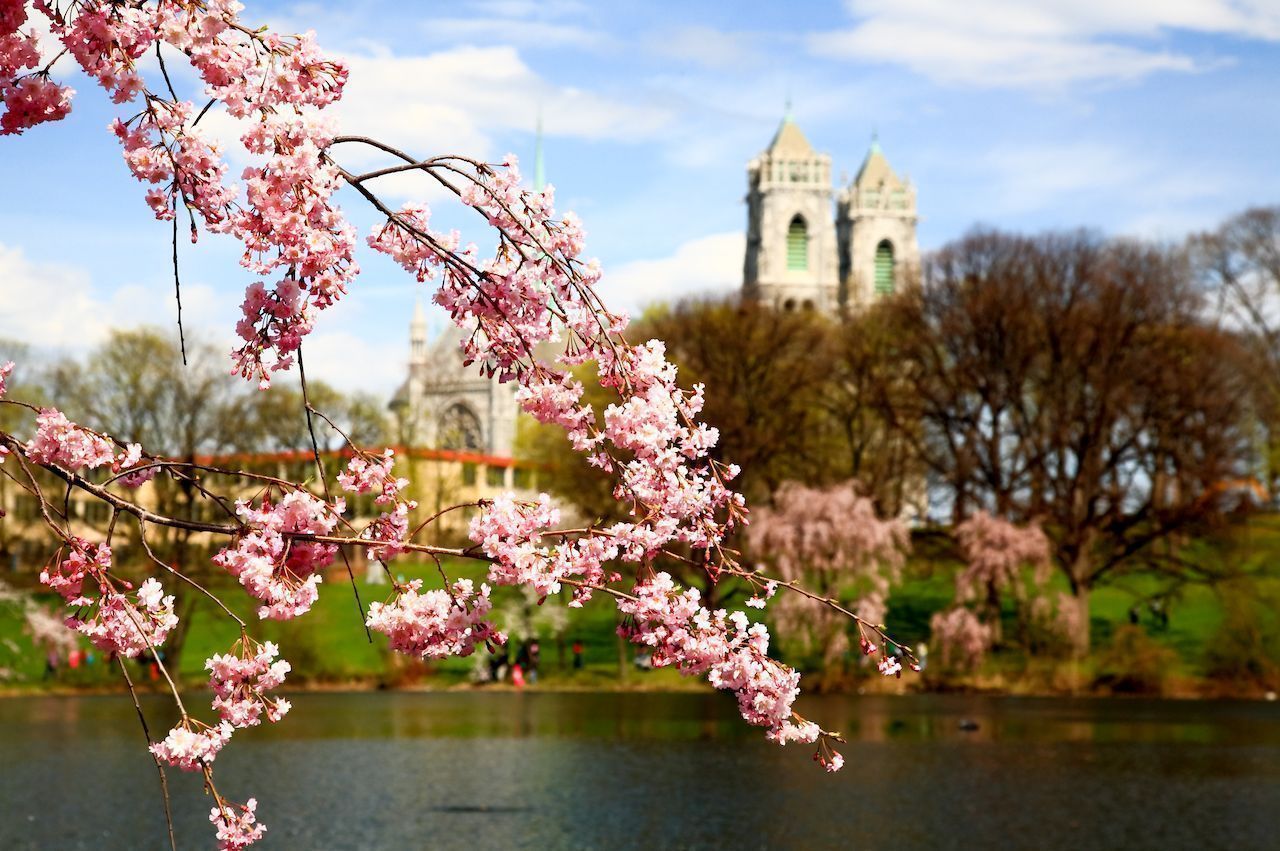 Photo: gary718/Shutterstock
Quick: Who has the biggest cherry blossom display in all of the US? You guessed it…Newark! So if you're into calming pink petals make tracks to Branch Brook Park from April 4-19 for the Essex County Cherry Blossom Festival. You'll find over 3,000 trees in full bloom around the second and third week of April, which you can view from trolly tours, while running a 10K, or just wasting an April afternoon outside. If you'd rather experience New Jersey as some believe it was meant to be experienced — from inside a shopping mall — you can also hit up the long-awaited American Dream. It's finally fully operational this month and features Nickelodeon Universe and Big Snow, New Jersey's first indoor snow hill. Easter weekend also marks the unofficial opening of many boardwalk attractions down the shore (well, at least when it lands in April, like it does this year), and is a popular way to celebrate the holiday for locals.
10. Pinot Coast,
Australia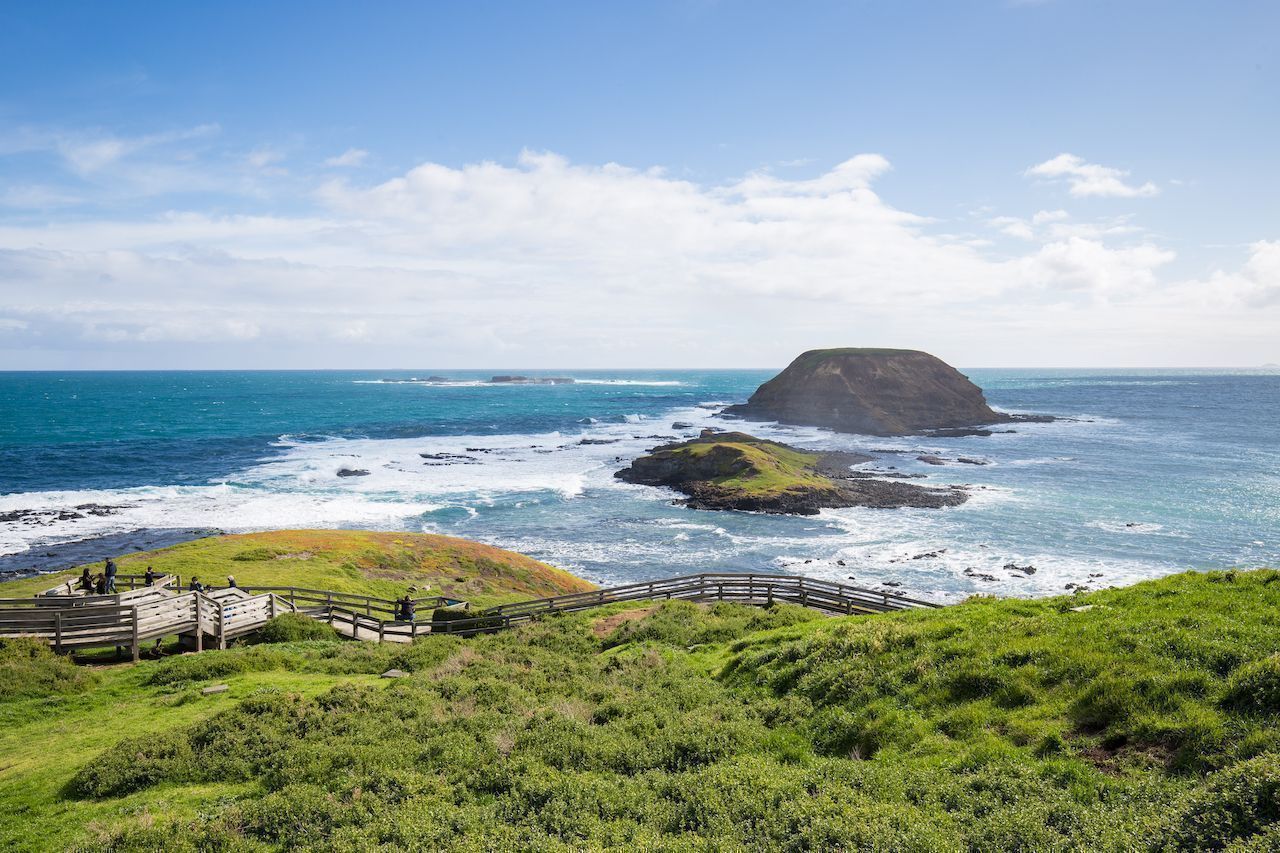 Photo: TonyNg/Shutterstock
As tends to happen after disasters, a number of people believe the entire continent of Australia went ablaze these past few months. But much of the country was unaffected, and if you're looking to help Australia get back on its feet, check out its oldest wine-producing region set along the southeastern coast near Melbourne. Here you'll find the colorful countryside, in harvest season, when wineries are working their hardest among bright oranges, yellows, and reds. There are 146 wine producers along the 400 miles of the Pinot Coast, with the Geelong, Mornington, Peninsula, and Gippsland regions all offering their own take on pinot grigio.
But it's not just wine tasting that excels here during Australian fall. You can also go whale watching, diving, and surfing off the coast. Or check out wild penguins at Phillip Island's Penguin Parade. Whatever your flavor, you can't go wrong along the Pinot Coast.
11.
Myrtle Beach, South Carolina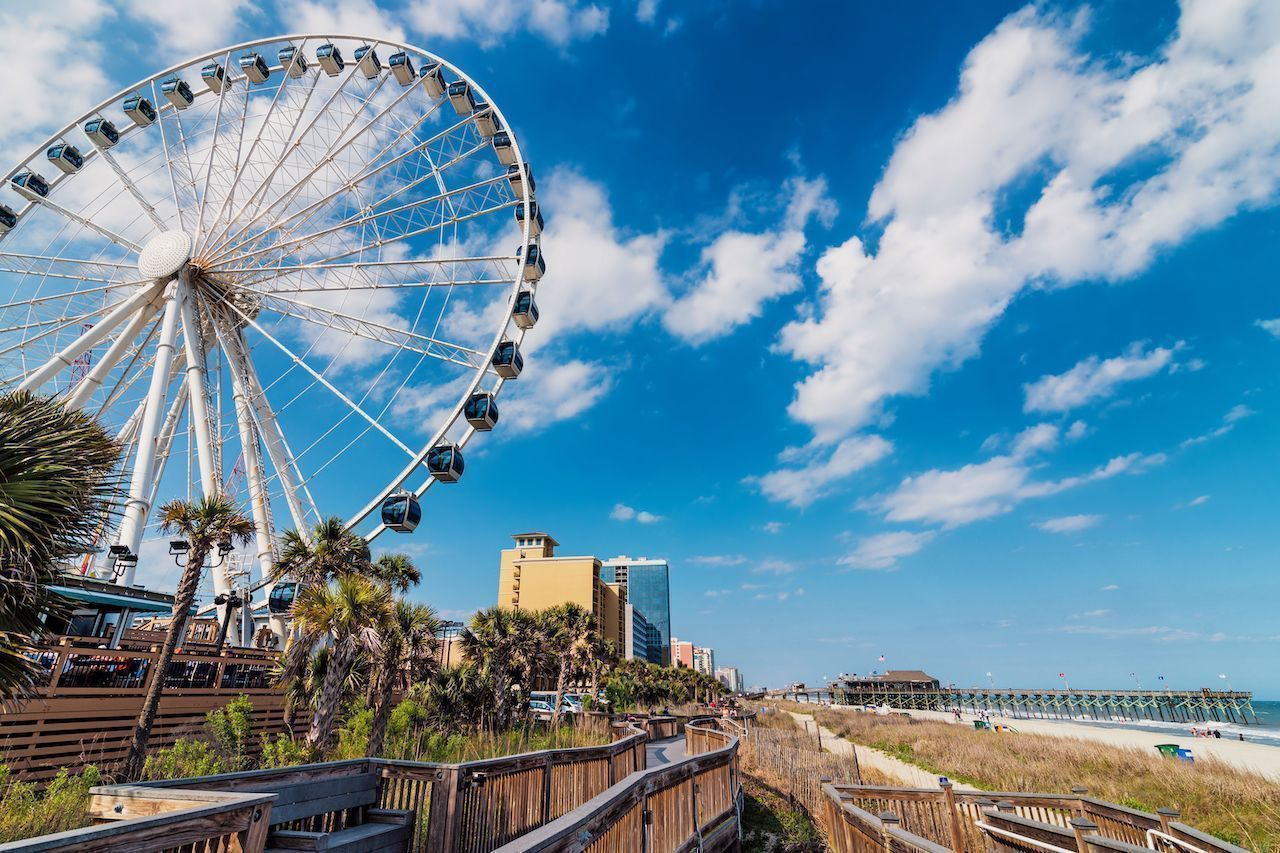 Photo: Rob Hainer/Shutterstock
Myrtle Beach is always a fantastic budget beach destination, but in April you'll have the rare opportunity to grab a Jeep and actually drive on the sand. The annual Myrtle Beach Jeep Jam starts on April 30, where you can bring your vehicle through a treacherous beach obstacle course, enjoy a car show, and take part in nightly bar crawls along the boardwalk.
If you'd like something a little more refined, head here earlier in the month for the opening of large-scale light sculptor Bruce Munro's exhibit at Brookgreen Gardens, when South Carolina's biggest botanical gardens comes alight with his massive light sculptures tailor-made for Instagram. One of the biggest golf Pro-Am tournaments in the country will also go down from April 10-13 at Monday After the Masters, highlighted by a live performance from host Hootie and the Blowfish.
12.
Palawan, Philippines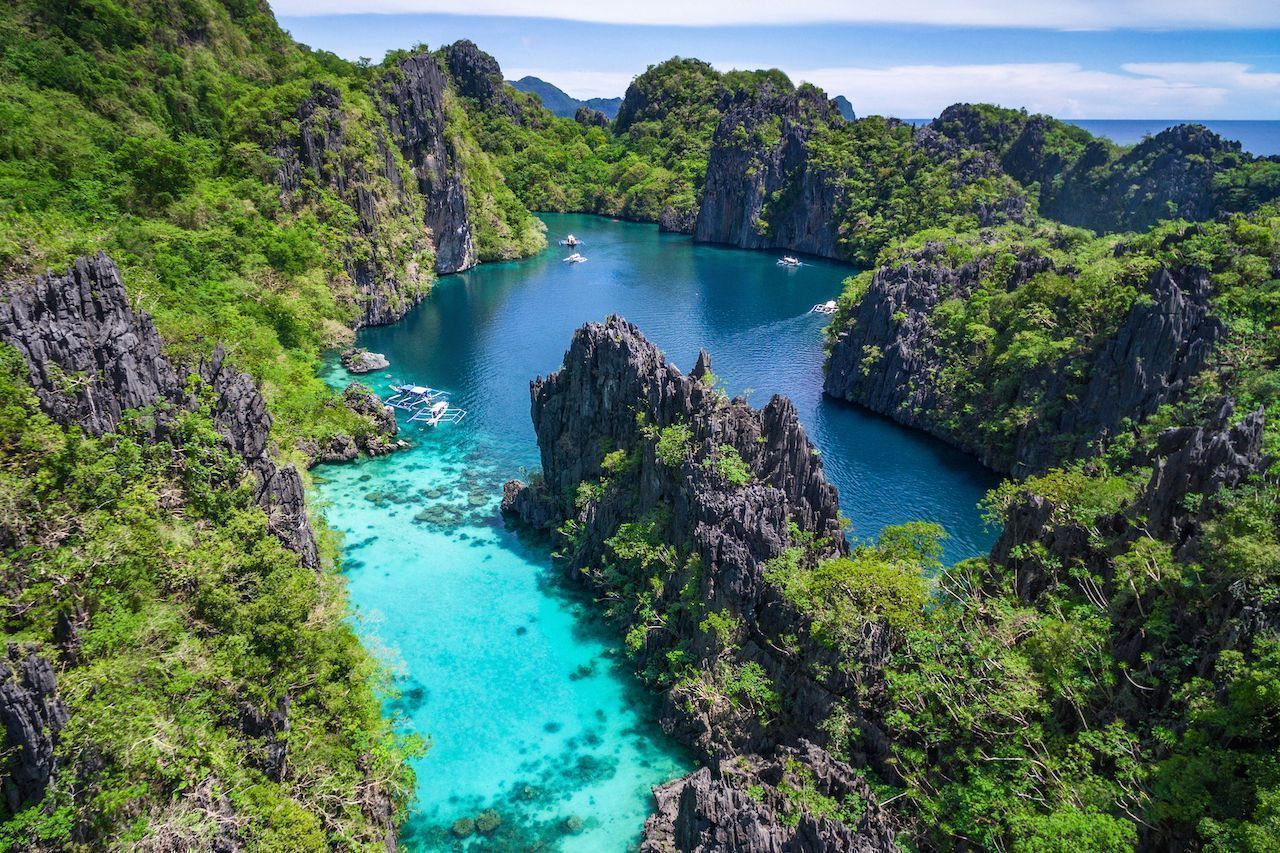 Photo: R.M. Nunes/Shutterstock
While the beach where the movie The Beach was actually filmed is effectively closed to visitors now, the beach where Alex Garland wrote the novel that inspired the movie is still as pristine as ever. That's probably because it sits among the 1,780 islands that make up Palawan, a hard-to-reach tropical paradise that still feels remote and altogether undisturbed. Island-hopping through this region is a true return to nature, albeit nature covered in beaches, and April hits the sweet spot between tourist and monsoon season when the weather is nice and you won't run into too many other visitors. If you feel inspired to go, Matador Network's Creative Director Scott Sporleder will be leading an adventure through Palawan in April, sailing from island to island and working on your travel photography along the way. And lucky for you, spaces are still available.


More like this: Island-hopping around Palawan, Philippines, is the best adventure you can take in 2020
The post The best places to travel this April appeared first on Matador Network.