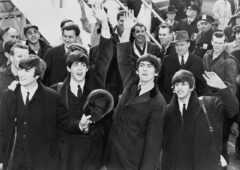 When American rock and roll made its way to the UK in the 1950s and 60s, along with a burgeoning folk and blues revival, many young British fans hadn't been conditioned to think of music in the same way as their U.S. counterparts. "Unlike racially segregated Americans," for example, "the Beatles didn't see—or hear—the difference between Elvis and Chuck Berry," writes Joseph Tirella, "between the Everly Brothers and the Marvelettes." They also couldn't see playing to segregated audiences as just one of those social customs one politely observes when touring abroad.
In 1964, at the height of Beatlemania, the band was booked to play Florida's Gator Bowl in Jacksonville just after a devastating hurricane and months after the introduction of the Civil Rights Act into Congressional deliberations. Major political shifts were happening in the country and would have happened with or without the Beatles taking a stand for integration.
But they took a stand nonetheless and used their celebrity power to show how meaningless the system of Apartheid in the South actually was. It could, in fact, be annulled by fiat should a group with as much leverage as the Fab Four refuse to play along.

The rider for the September 11 concert "explicitly cited the band's refusal to perform in a segregated facility," writes Kenneth Womack at Salon. When concert promoters pushed back, John Lennon flatly stated in a press conference, "We never play to segregated audiences, and we aren't going to start now. I'd sooner lose our appearance money." Despite storm damage and evacuations, the 32,000-seat stadium had sold out. The Gator Bowl had to relent and desegregate for the evening's show.
One of the concert's attendees, historian Dr. Kitty Oliver, who appears in the clip at the top from Ron Howard's Beatles documentary Eight Days a Week, was a young Beatles fan who hadn't heard the news about the show desegregating. Determined to go, and saving up enough money to score a seat near the front row, she remembers fearing the atmosphere she would encounter:
At the time, I didn't know anything about the group's press conference announcement refusing to perform for an audience where Black patrons would be forcibly segregated from Whites, probably relegated to the worse seats farthest away from the stage and maybe subjected to a threatening atmosphere if they showed up.
Instead, she writes, "the crowd rose, thunderous, in unison, when the Beatles took the stage. Then tunnel vision set in: Eyes glued to the front, I sang along to 'She loves me, yeah, yeah, yeah…' full voiced, just as loudly as everyone, all of us lost in the sound." The band "left behind a legacy that night," writes Womack, having "stood up to institutional racism and won." It was not a cause-of-the-moment for them but a deep conviction all four members shared, as Paul McCartney explains above in an interview with reporter Larry Kane, who followed the band on their first American tour.

McCartney had been so moved by the events in Little Rock in 1957 that almost a decade later, he remembered them in his song "Blackbird," as he explains above. This year, he recalled the band's stand against segregation in Jacksonville and commented, "I feel sick and angry that here we are, almost 60 years later, and the world is in shock at the horrific scenes of the senseless murder of George Floyd at the hands of police racism, along with the countless others that came before. I want justice for George Floyd's family, I want justice for all those who have died and suffered. Saying nothing is not an option." When it came to issues of injustice, even at the height of their fame, the Beatles were willing to say—and, more importantly, do—something about it even if it cost them.
Related Content:
Watch The Beatles Perform Their Famous Rooftop Concert: It Happened 50 Years Ago Today (January 30, 1969)
How "Strawberry Fields Forever" Contains "the Craziest Edit" in Beatles History
A Virtual Tour of Every Place Referenced in The Beatles' Lyrics: In 12 Minutes, Travel 25,000 Miles Across England, France, Russia, India & the US
Josh Jones is a writer and musician based in Durham, NC. Follow him at @jdmagness
When the Beatles Refused to Play Before Segregated Audiences on Their First U.S. Tour (1964) is a post from: Open Culture. Follow us on Facebook, Twitter, and Google Plus, or get our Daily Email. And don't miss our big collections of Free Online Courses, Free Online Movies, Free eBooks, Free Audio Books, Free Foreign Language Lessons, and MOOCs.