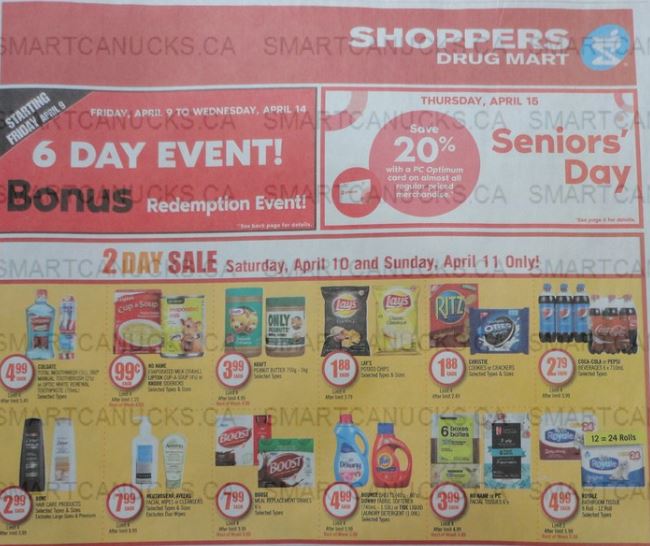 A six day bonus redemption event is happening at Shoppers Drug Mart from April the 9th to the 14th. Redeem 50,000 points and get $65 off, redeem 100,000 points and get $140 off, or redeem 200,000 points and get $300 off!
There is a two day sale April 10th and 11th, and here are some of the included items:
Kraft Peanut Butter $3.99
Lay's Potato Chips $1.88
Christie Cookies or Crackers $1.88
6 Pack Coke or Pepsi Soft Drinks $2.79
Dove Hair Care $2.99
Boost $7.99
Tide or Downy $4.99
Royale Bathroom Tissue $4.99
6 Pack PC or No Name Facial Tissue $3.99
Dozen Eggs $2.29
No Name Butter $3.49
PC Bacon $4.99
PC Pub Recipe Chicken Strips, Nuggets, or Burgers $4.99
You will find a loadable offer in your app valid April the 9th to the 11th if you would prefer to earn points rather than redeem. The offer is for 20,000 PC Optimum points but it doesn't seem to say how much you will need to spend.