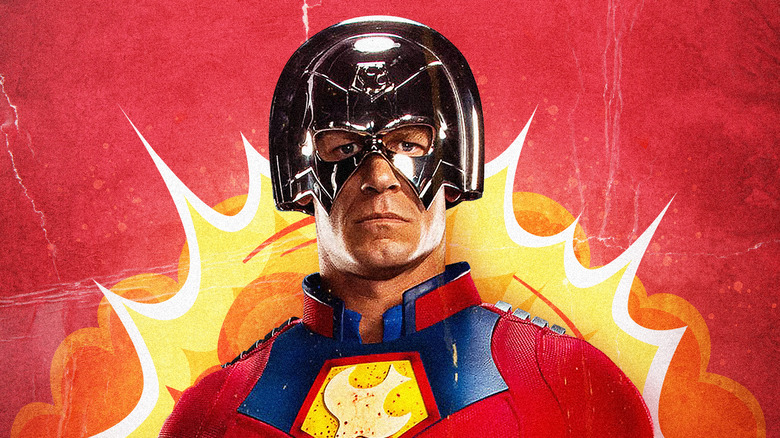 I have been a fan of professional wrestling for nearly three decades. My fandom began in the early 90s when my cousin Christopher introduced me to the World Wrestling Federation. Unfortunately, he passed away in the mid-90s, so he was unable to go on the journey with me from the Federation Years to the Attitude Era, World Wrestling Entertainment, and beyond. But one thing that I did pick up from him was a distaste for Hulk Hogan. When it came to favorite wrestlers, we were firmly in the Ultimate Warrior's corner and celebrated when he toppled Hulkamania. Of course, it was revealed year later that they were both incredibly problematic in many ways, but back then, there was something appealing about the colorful face paint and tassels, the wild intensity, and the message, "Always believe."
After the era of Hogan and Warrior ended, a number of superstars stepped up to become the face of WWE. The Undertaker, "Stone Cold" Steve Austin, D-Generation X, and The Rock all had their moments in the spotlight. Once the Ruthless Aggression Era was in full swing, a young John Cena rose to the top of the card on Smackdown in the mid-2000s. But around 2005, he switched from the Doctor of Thuganomics to a more generic family friendly version of his character that basically picked up where Hulk Hogan left off. For over 15 years, he's been the All-American, squeaky clean, baby-kissing, flag-waving, jorts-wearing, gooder-than-good guy. And essentially for over 15 years, I have not been a fan of John Cena as a wrestler. But when it comes to John Cena in film and TV, I'm totally on board.
Let's Go Cena? Cena Sucks!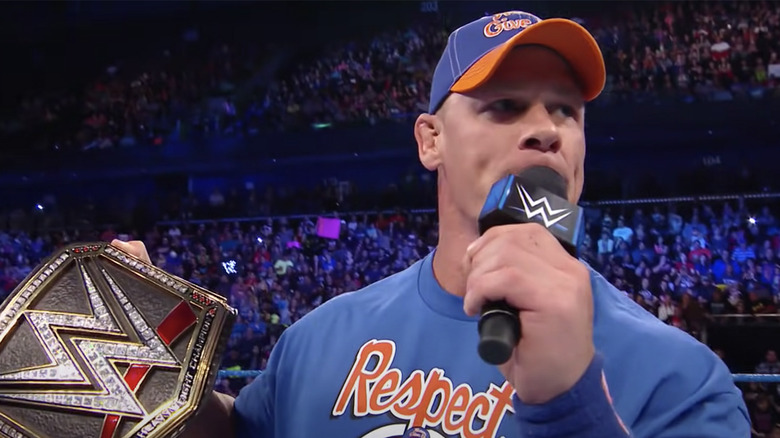 Let me be clear: I am not a fan of the professional wrestling character John Cena. As a person, he's great. He has granted over 650 wishes for children with life-threatening illnesses through the Make-A-Wish Foundation, which is the most in the organization's history. He donated $1 million to Black Lives Matter as part of BTS' #MatchAMillion initiative. Then there's his "We Are America" PSA for the Ad Council, the "Rise Above Hate" anti-bullying campaign, his work with breast cancer survivors through Susan G. Komen, and much, much more. Seriously, he's a great dude. He's also a great reality TV personality thanks to "Total Divas" and "Total Bellas," but that's another conversation for another time.
I'm also not denying the fact that Cena has been a cultural ambassador for professional wrestling in the wider scope of pop culture. Just like Hulk Hogan, The Rock, and "Stone Cold" Steve Austin, people outside of wrestling have been drawn in because of Cena's appearances outside of the ring. He's definitely earned his future WWE Hall of Fame induction for all of those reasons and more.
But I don't like John Cena as a wrestler for the same reasons that I didn't like Hogan (aside from the unapologetic racism) or DC Comics' Big Blue Boy Scout, Superman: After years and years of being the top guy, these characters are unstoppable and you never believe for a second that they're going to lose. For the most part, they never fail and they never change. 
Whether it's saying your prayers and taking your vitamins, standing for truth, justice, and the American Way, or preaching hustle, loyalty, and respect, it's all just so boring. And it's not just for the present day me, the writer and critic that professionally analyzes media. Childhood me wasn't having it either. Watching these types of characters becomes a chore because they're not flawed, which makes them unrelatable. Ted Lasso and Captain America can be seen as a squeaky clean baby-faces too, but both of them are also complex characters with their own flaws that they're working through. They're not the pinnacle of perfection. On the other hand, Cena is now a 16-time World Champion. We didn't need to see him win that many titles because the story rarely changes, yet we've gotten it again and again and again. Unfortunately, this kind repetition has even been applied to superstars beyond Cena at this point. Vince McMahon picks his guys and girls, decides that they're the heroes of the story, and shoves them down the audience's throats whether they like them or not. That's just what WWE has become these days. 
Never Give Up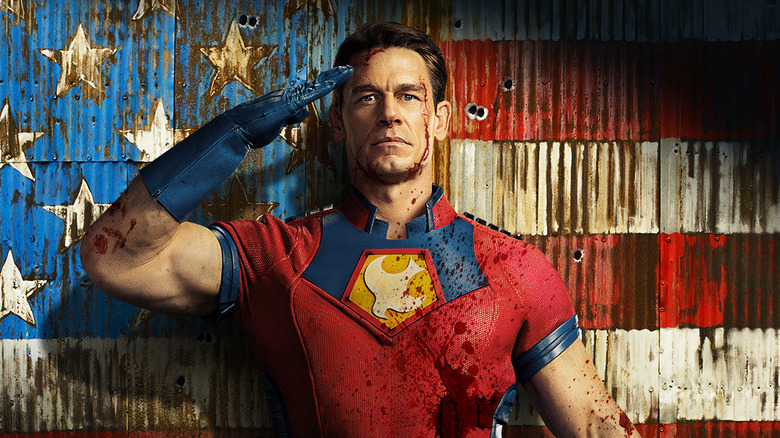 However, there are exceptions to the rule. Alan Moore, Mark Millar, Grant Morrison, and Garth Ennis are just a few of the comic creators that have written excellent Superman stories. Hulk Hogan being revealed as the third man in the nWo shook the professional wrestling industry to its very core. And John Cena has had a number of great matches with CM Punk, Edge, AJ Styles, Shinsuke Nakamura, "The Fiend" Bray Wyatt, and more that I have legitimately enjoyed. He's very capable of telling a dynamic story in the ring when the occasion calls for it. But nothing in his wrestling career has impressed me more than what he's managed to accomplish in such a short time in his acting career. 
From 2006 to 2010, it seemed like John Cena would be going full Hulk Hogan by starring in unimpressive, generic action movies like "The Marine" and "12 Rounds." But as BJ Colangelo has previously said on this site, Cena has an undeniable "It Factor," and he oozes unteachable charisma. So thankfully, he didn't stay in the direct to DVD movie realm for very long. 
In 2015, he landed some supporting roles in "Trainwreck," "Sisters," and "Daddy's Home 2." During his brief time onscreen in each of these movies, he really stole the show. And because he was cast against the type cultivated in his wrestling career, the things he was doing and saying were incredibly shocking and often hilarious. In the following years, he got to show some range in his acting ability by starring in "Blockers," "Bumblebee," "Playing With Fire," and "F9." His characters in all of those movies were pretty different from each other and required different weapons from his acting arsenal. But his definitive breakout role has got to be James Gunn's "The Suicide Squad." 
In James Gunn's DC Comics movie, he plays Christopher Smith, AKA Peacemaker, an expert assassin that cherishes peace so much that it doesn't matter how many men, women, and children he has to kill to achieve it. To put it another way, he's a murder himbo with a warped sense of what's right and wrong. We could honestly go on for another 1,000 words about how great that movie is, but Cena's performance is probably one of the top ten best things in the follow-up to David Ayer's failed attempt at making the DCEU's version of Gunn's "Guardians of the Galaxy." Luckily, Warner Bros. and DC landed the actual James Gunn to deliver what they were looking for the second time around.
Give Peace A Chance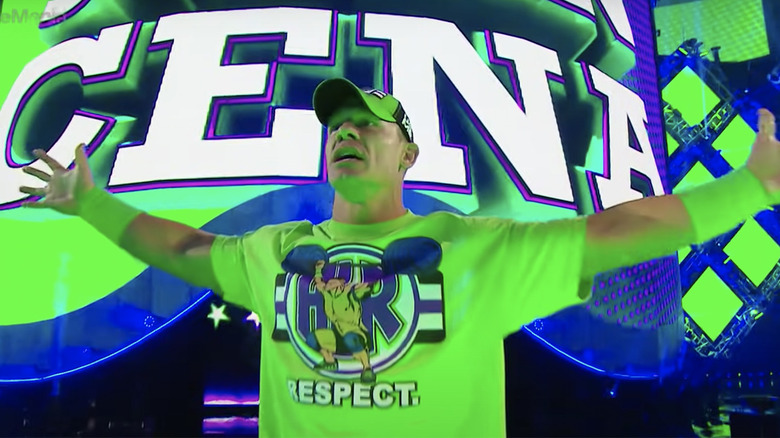 With Gunn continuing what he started in "The Suicide Squad" by helming the new HBO Max original series "Peacemaker" starring John Cena, the former WWE Champion gets to take part in one of the director's signature moves, as described by our own Danielle Ryan in her review of the first three episodes, "Combining dark humor with heartfelt earnestness to create some of the weirdest, most wonderful movies [and television]." 
Just as Superman can shine when in the hands of the right writer, Cena is at his best when he's working from a well-written, dynamic, and layered script, which is something that he almost never got (if ever) in WWE. With a great story, an interesting character, and the actor's ineffable comedic timing and natural charisma, Cena proves that he has what it takes to become an actor-turned-wrestler on par with Dwayne "The Rock" Johnson and Dave Bautista, instead of a wrestler that occasionally acts in movies in between wrestling gigs like Hulk Hogan or Paul "The Big Show" Wight.
As I've gotten older, I've come to realize that John Cena's schtick in WWE isn't for me. Because I acknowledge that it's not for me, I don't have to watch it. There's plenty of other wrestling for me to watch in this day and age instead of torturing myself by constantly fast-forwarding through uninteresting parts of a show or simply watching something that I don't enjoy because I'm too lazy to fast forward. However, I'll actively be keeping an eye out for whenever John Cena's next movie or TV show drops. In other words, to borrow a phrase from Cena himself to reference his work throughout all of entertainment, "If [I] want some, [I'll] come get some."
Read this next: The 20 Best Sports Films Of All Time Ranked
The post John Cena the Wrestler Never Impressed Me – But I Love John Cena the Actor appeared first on /Film.